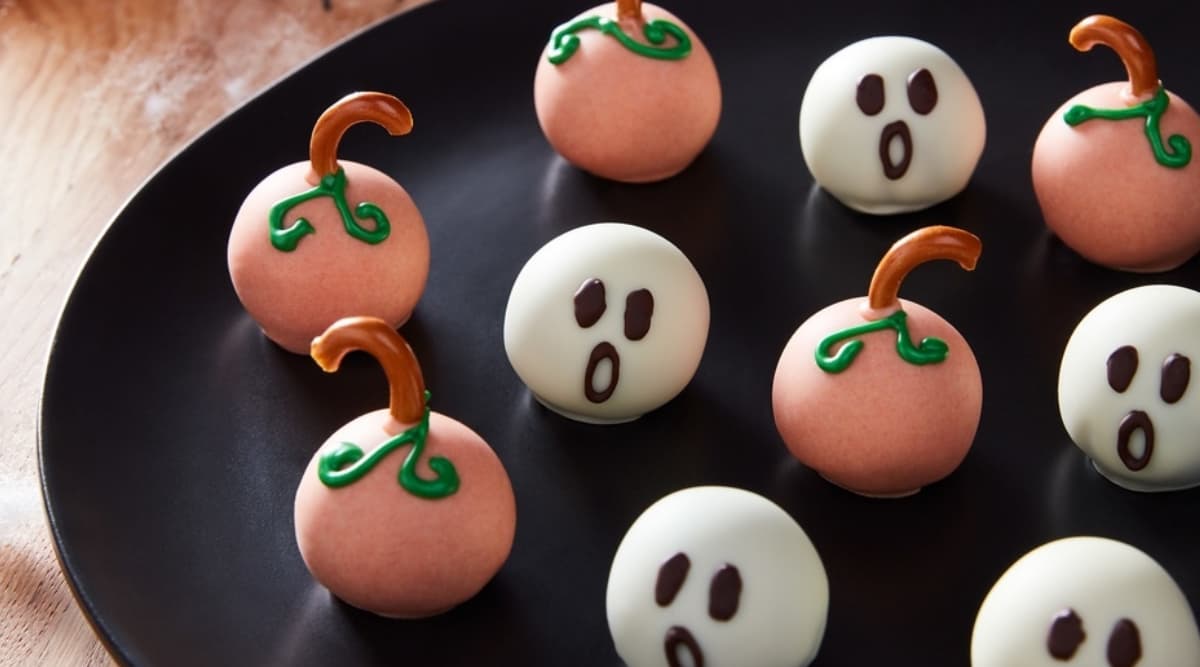 Looking for Halloween recipes that will send a shiver down your spine? If you are throwing a monster mash, these delights with a desi touch can make for memorable treats. From scary cockroach with dates to grumpy old man laddoos, there are all sort of dishes to make in honour of the haunted holiday. If you are stumped on how to give a Indian twist to your Halloween, keep reading for treats that are so fun and tasty, they will live on forever!
Scary Cockroach Dates
You will need cream cheese and dates or khajoor. Simply slit the dates and fill them with cream cheese. They will not only be a great appetiser for your party but will also manage to creep your guests out. Halloween in India: Here's Why Hallowe'en Isn't Widely Popular and Celebrated in The Country
Grumpy Old Man Laddoos
You will need some besan ke laddoos or any other laddoos of your choice, and marshmallows to make these munchies. Roll the laddoos in your palms and press them flat. Now press the marshmallow flat and cutting the eyes, nose, and moustache. Stick them on the flattened laddoos to give the shape of a grumpy old man. Aren't they cute? Halloween 2019 Costume And Make-Up Ideas: Best Scary Looks And Outfits You Can Take Inspiration From For Theme Parties!
Banana Ghost
You will need a skewer, ripe yet firm bananas, chocolate chips, and cheese sticks to prepare these snacks. Push the banana through the skewer and set aside. Melt chocolate chips in a microwave and wait for it to cool down to room temperature. Now drizzle, pour and paint the bananas with melted chocolate. You can use cheese slices to make triangular eyes or simply use some white chocolate to create the ghostly figure.
Insect Shikanji
Prepare a lemonade or nimbu paani or shikanji by squeezing lemon juice and add some salt and sugar. You can put some crushed eyes if you want. Now throw in some cumin seeds to make them look like insects floating inside your drink. Creepy right? Halloween 2019 Recipes: From Ghost Toast to Oreo Eye Balls, 5 Really Creepy Halloween Treats So Easy To Make, You Could Prepare With Your Eyes Closed. 
Ghee-Laden Spooky Teeth
To make this, you will need sliced apples, tiny marshmallows, and some ghee. Slice the apple to ¼- ½ inch thick. It should lie flat so you can smear the ghee and arrange the marshmallows. Place the second slice and press it gently to make the canines pop out.
Easy to make, yummy, festive, and India-appropriate, these recipes are no trick, so jump to your kitchen now!