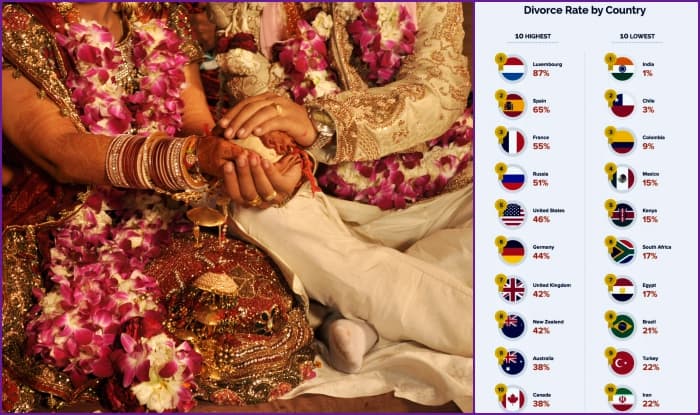 Social media is filled with beautiful wedding pictures of lovely couples promising to spend their lives together. But heartbreaking data reveal how fewer people are getting married, more are delaying their marital age, and even more are getting divorced. The divorced rates are stirringly high across the world, and the rate gaps between the countries are vast. A 2017 report submitted by the Unified Lawyers, shows India having the lowest divorce rate of any nation in the world at just 1 percent. This data made headlines around the globe last year triggering debates as to why it might be the case. It has once again prompted a discussion on Twitter. Some Weird but True Excuses Real People Divorced Their Spouses. 
There is no denying that our nation's youth believe in the institution of marraige and never shied away from tying the knot, the moment they find their compatible partners. But a 1 percent divorce rate is debatable. The Unified Lawyers' report states that the common misconception that divorce cases in India happen mostly in "love marriages" as compared to "arranged marriages" at most times. "In every 1,000 marriages, only 13 ends up in divorce. But why exactly is the rate so low?" writes the report. World's Fastest Divorce? Ant McPartlin and Lisa Armstrong Granted Divorce in Just 30 Seconds!
Unified Lawyers Report Says Only 1% Indian Couples Calls-Off Their Marriage
#Divorce Rate by Country: The World's 10 Most and Least Divorced Nations #India the lowest divorce rate ...hmm!https://t.co/HXwva76NFp pic.twitter.com/Gw0uYuWE6K

— Samir Saran (@samirsaran) January 30, 2019
Twitterati was quick to answer with their theories. While many pointed out the irony behind such a low rate, others find the data to be irrelevant. One per cent divorce rate in India could mean many things.
Divorce Rate in India Triggers Debate
India, the land of unhappy marriages https://t.co/bZYT7fS3g5

— Shivam Vij (@DilliDurAst) January 31, 2019
Social Cage is a Matter to Consider
Could be more to do with NO #financialIndependence, especially of women from poor families!

The social cage is another matter to consider. https://t.co/54Mv4kQJUU

— urban hermit (@skmajee) January 31, 2019
Some Blame the System
Indian society frowns upon separation and Indian judicial system instead of upholding individual liberty forces couples to live together unless it is 'convinced' that a case for divorce exists - allowing abusive partners to keep their victims in vicinity. It is a criminal system. https://t.co/oKhqK6Bf92

— Ifra Jan (@ifra_jan) January 31, 2019
Other Forwarded their Theories
#India and all other countries on the right are also least developed.

Divorce is more linked to affluence rather than the culture, I think. The report doesn't indicate anything.

— Ask Ambedkar (@AskAmbedkar) January 31, 2019
High Divorce rate can be interpreted as people's empowerment to take decisions on their life and less culturally and socially obliged https://t.co/2N0Z93YHMq

— rukesh veera (@rukeshveera) January 31, 2019
We Hope the Same
Hopefully, we Indians can take the right message from this, which is that our divorce rates are unhealthily low. Hopefully, we can move to a system where people don't feel compelled to stay in unhealthy, unhappy marriages due to social and financial pressures. https://t.co/4vUuK2eyZG

— Reuben Abraham (@nebuer42) January 31, 2019
Unified Lawyers report finds Luxembourg to be the top country with the highest divorce rate of 87 percent in the world. Being one of the smallest countries in Europe, it only allows divorce to take place if both the parties are above 21 years old and married for a minimum of 2 years. The report highlights the age group of divorce ranges from 40 to 49 years old. Spain stands second with 65 percent, followed by France with 55 percent, Russia is at 51 percent, and the United States at 46 percent. The rates continue to vary among nations. Amazon Founder Jeff Bezos, Wife MacKenzie To Divorce After 25 Years of Marriage. 
It is a well-known fact that in Indian society, giving up marriage does not come easily. There are lots of reasons as to why divorce is not considered the best option for Indian men and women. Those who decide to end their marriage, are looked down upon for opposing the rules of the Indian society. The report further highlights that divorce hearings in India typically take one to two months. "Even mutual consent divorces take 12-18 months before divorce can take effect," state the researchers.
The revelation that only one percent of marriages end in divorce triggers a lot of debates. It mainly raises the question of whether divorce is still a taboo in Indian society?