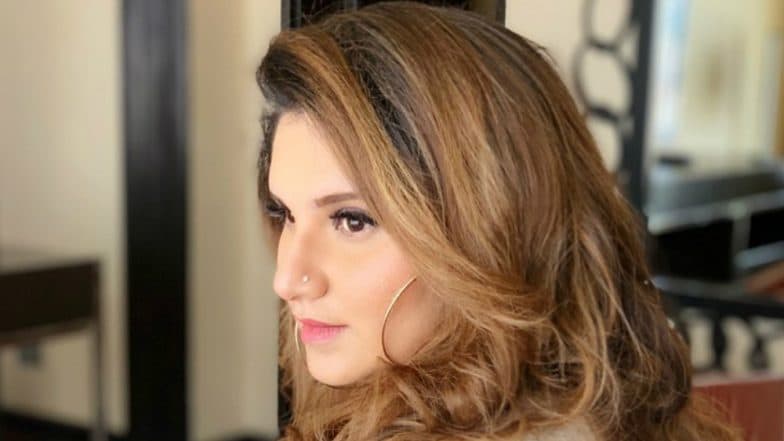 Indian tennis ace Sania Mirza is in her third trimester and will soon give birth to her first child with her husband and Pakistani cricketer Shoaib Malik. Over the past few months, Sania has shared numerous photographs on the social media of her pregnancy bump. She also did a photo shoot with a magazine where she has that ultimate pregnancy glow. And today, Sania shared a heart-warming video on Instagram in association with the brand Kellogg's. Although within no time, she deleted the video from her account. In the video, Sania spreads a powerful message of always being free and to nourish your dreams. Shoaib Malik Clears Rumours of Sania Mirza Giving Birth to Baby Boy, Advises Not to Believe Everything on the Internet.
Sania appeared in a video for Culture Machine's digital channel Blush and Kellogg's India, not as a tennis player but a mother waiting for her child to arrive into this world. In the now deleted video, Sania captioned the video writing: "Born free..With love". In the video, she tells her unborn child that he or she can become whoever they want once they grow up. The message of the video beautifully encapsulates the message of liberating children of expectation and setting them free to be individuals of their own choice. See the video below that Sania shared on her Instagram. Sania Mirza's Maternity Fashion Gives Ultimate Style Goals To All Expecting Mothers (See Pics).
Video of Sania's Heartfelt Message to Her Child
At the end of the video, other women are unanimously seen promising their child, "You will always be free to nourish your dreams." This message is important as children often feel succumbed to their parents' pressure and are unable to follow their dreams. Moreover, they are sometimes forced to pursue a career or path what their parents have chosen for them. The video also encourages parents to support their child's dreams and stand by their side always. As soon-to-be-parent, choosing Sania Mirza for the collaboration was a perfect choice.