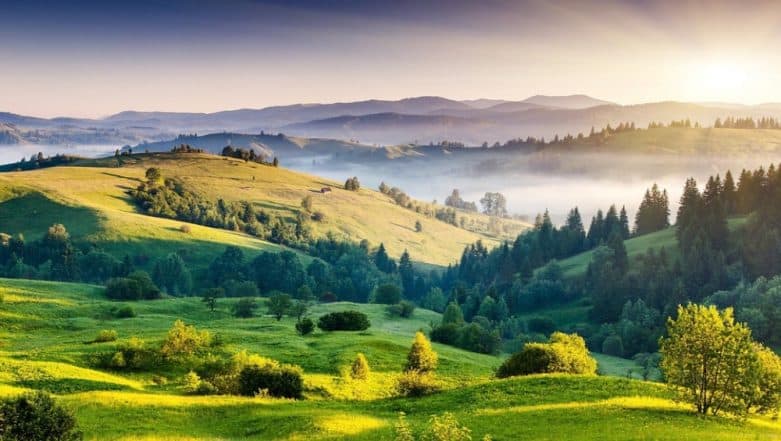 The summers are here and people are already tired of the heat. Stepping out in the summer sun is a tedious thought in itself, but if you are living in the city chaos you'd always want to escape somewhere. With summer vacations also approaching, several families are planning their summer holidays. And every holiday planning starts with choosing the right destination. The best way to beat the heat this summer is to escape to a cool destination. Hill stations make for the best spots to visit in this season. India has some amazing hill station spots where you can escape to. 8 Travel Essentials That You Must Carry in Your Backpack.
Hill stations have an abundance of picturesque scenery which makes for a beautiful atmosphere and a feeling of tranquil at all times. These smaller towns located atop and surrounded by mountains give a good respite from the tall skyscrapers and daily pollution. So if you too are looking for a good break from the summer sky, then we give you a list of few hill stations within India which you can definitely pay a visit to. Plan a Stress-free Vacation by Keeping These Basic Things in Mind.
1. Wayanad (Kerala)
View this post on Instagram
If you are heading to South India for an escape then don't miss out on Wayanad in Kerala. The enchanting hill station is covered in lush greenery and dense vegetation on the way. The hilltops give some of the best views. Located at 700-2100m, it has a mix of everything. There are waterfalls, lakes, exotic wildlife species and a lovely plantation of tea and spices. You can visit the famous temples nearby and also experience the age-old civilization in Edakkal Caves.
2. Kodaikanal (Tamil Nadu)
View this post on Instagram
Kodaikanal is rightly tagged as the princess of hill stations. The name itself means 'The Gift of the Forest', so you can imagine the greenery here. Meadows and grassland cover all the hillsides. The valleys offer some stunning views and during the spring you can also experience the beautiful blooms on the way. Kodaikanal is very popular for its flora and the subtropical climate is a welcoming change. The Kodaikanal lake in the center is also very famous here.
3. Mount Abu (Rajasthan)
View this post on Instagram
Heading to Rajasthan in the summer may not seem a wise idea, but Mount Abu is a destination that will make you chill. Being the only hill station here, it is the most popular tourist spot in the Aravalli range. Mount Abu is an oasis in the desert as it has rivers, lakes, waterfalls and forests. You can also visit several temples here which have spectacular architecture.
4. Panchmarhi (Madhya Pradesh)
View this post on Instagram
Pachmarhi situated in Central India is not a very well-known tourist destination but it is a beautiful spot nonetheless. It is widely called the Satpura ki Rani (Queen of Satpura). A part of the biosphere reserve, Panchmarhi offers a great diversity of flora. You can also watch the wonderful wildlife here. There are some endemic species as well. There are many beautiful spots from waterfalls to mountain streams, temples to caves which you can visit.
5. Khajjiar (Himachal Pradesh)
View this post on Instagram
Khajjiar, located off Chamba in Himachal Pradesh is known as the 'Mini Switzerland of India.' Rightly so, the place is entirely snowcapped in the winters and the summers offer a green cover over the plains. It is a plateau region surrounded by meadows and forests all around. Situated at the foothills of the Dhauladar Himalayan range, the weather here is always pleasant. Know All About Exploring This Little Hill Station in Himachal Pradesh.
6. Shillong (Meghalaya)
View this post on Instagram
Get a distinct glimpse of the North East culture in Shillong. Not just the beautiful sceneries here, you can also experience the cultural traditions of the Khasi tribal people. The 'Scotland of the East' has many places which strikingly resemble the Scottish plains and mountains. Even in summers, the weather here is mildly pleasant. You can explore not just the sceneries of this place but also learn a lot about its history, traditions, cuisine if you mingle around with the locals.
These are just some of the hill stations within the country. Besides, you can always visit North India which has many such tranquil spots. In fact, each state in our country has some soothing spot to offer. Depending on your budget, travel and time you can fix upon a place. We hope our list helps you a bit to decide on some places where you can head to. Do let us know which are some of your favourite tourist spots in the comments section.