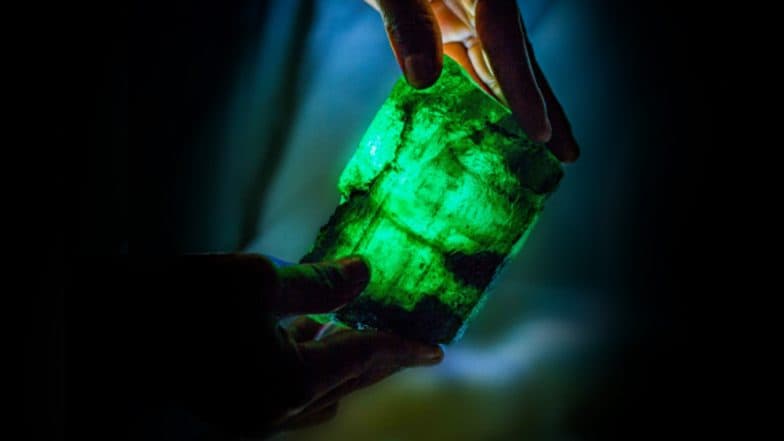 Gemfields, the world's largest producer of green stones announced the discovery of a 5,655-carat emerald. Called 'Inkalamu' that means lion in the local Bemba language, the London-based supplier described the jewel as having "remarkable clarity and a perfectly balanced golden green hue". The crystal was unearthed in Kagem, the world's largest mine.
While 75 per cent is owned by Gemfields, 25 per cent is looked after by the Zambian government's Industrial Development Corporation. The newly discovered stone weighs more than 1.1 kg and will be auctioned in Singapore in November. Geologist Debapriya Rakshit and emerald miner Richard Kapeta found the stone in an open mine on October 2. Emeralds are more valuable than diamonds and quite in demand in the market. Most of the world's mines are found in Zambia, Colombia and Brazil. MP Farmer Stumbles Upon 44.55 Carat Diamond in Panna Mines That Values Upto Rs 2.5 Crore!
Elena Basaglia, Gemfields' gemologist said, "We are experiencing strikingly increased demand for high-quality Zambian emeralds from the major brands, particularly in Europe, all of whom admire the rich colour and unique transparency of our gems -- qualities that make them unique among emeralds." In the past too, similar gemstones have been found in the company's mines. This gem is not the largest emerald stone to have been found in the company's mines. In 2010, miners in Zambia had found a 6,225-carat emerald named the "elephant" for its enormous size.
The price of these emeralds cannot be predicted like that of diamonds. Adrian Banks, Gemfields' Managing Director for Product and Sales said, "We expect a number of large, fine-quality cut emeralds to be borne of the Inkalamu crystal. These important pieces are what return value to the buyer, and there might be hundreds of offcuts that are fashioned into smaller gems, cabochons and beads, but the key lies in recovering the fine quality pieces. Given this emerald is such a rare find, it is also perfectly conceivable that the buyer will choose to purchase it as an investment."