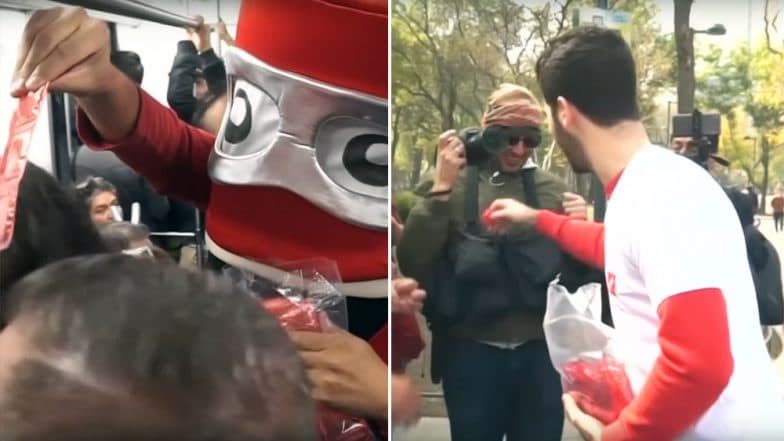 Ahead of Valentine's Day 2019, a man dressed as a giant condom handed out contraceptives to subway riders in Mexico City on Wednesday. Volunteers who were a part of a Los Angeles-based AIDS Healthcare Foundation (AHF) distributed condoms as a part of International Condom Day. The initiative was to raise awareness about safe sex thus thwarting HIV and other sexually transmitted diseases. They handed out 100,000 free condoms to people in the Mexican capital.
Video of the initiative that has gone viral on social media shows a man in the costume of a condom walking inside a subway giving out contraceptives to people. People can be seen waiting to receive free condoms from the person. International Condom Day is purposely observed by AHF, a day ahead of Valentine's Day which is celebrated as the day of love. Various organisations and NGOs hold events and different public-engagement programs encouraging people to use condoms. International Condom Day advises people about the use of condoms to prevent sexually transmitted diseases and unwanted pregnancies. International Condom Day 2019: Significance and Theme of The Day For Safe Sex Celebrated a Day Before Valentine's.
Watch the video below:
AHF which operates in 43 countries started the observance in 2009. In the US, a month-long nationwide tour is organised aimed at creating awareness on the use of condoms. It is observed a day ahead of Valentine's Day trying to showcase condom as an essential item for a safe sex life. With 'Safer is Sexy' being the 2019 theme, various individual dance performances depicting sexual scenarios have been arranged. It tries to show condom as a sexy and safe protective option.