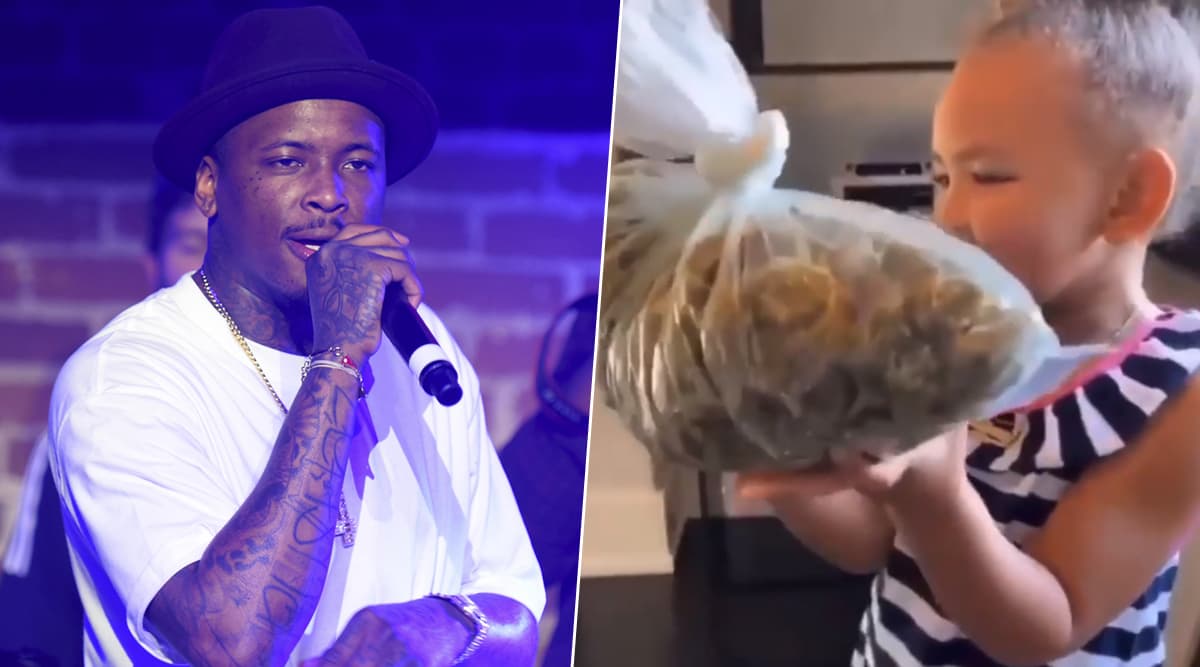 American rapper, Keenon Daequan Ray, popular by the stage name YG has been making the headlines recently, not for his musical hits, but some controversies. In the previous month at a concert, YG humiliated a young fan on stage who refused to curse out US President Donald Trump. Not long after that moment went viral, another video of YG has upset his followers. The American rapper posted a video of himself handing his three-year-old daughter, Harmony, a bag of what appears to be weed, asking the toddler to smell it. Innocently, the child follows the order, sniffing the bag, thinking it to be broccoli. The original video, which has been deleted, has surfaced online, and social media users have been slamming the 29-year-old musician. American Rapper T.I. Admits Taking Teenage Daughter to Gynaecologist Annually to Ensure She Is Virgin; Gets Criticised on Twitter. 
In the now-viral clip, the Big Bank artist is seen lifting a bag that contained marijuana, asking his daughter what is in it. The young girl can be heard happily exclaiming, "Broccoli!" YG then asks his daughter to smell the beg and what it is like to which the three-year-old again replied, "Broccoli."
Watch the Viral Video:
Internet's reaction was divided! While some defended the rapper calling it a very light-hearted moment, others compared his actions to parents who smoke in front of their kids. And such habits are obviously not healthy for their children.
Internet is Disgusted!
People are trying to justify YG showing his daughter his stash of weed by saying it's legal in Cali, but why is he exposing his child to drugs

— tosin 💛 (@tosinnn2) November 9, 2019
Too Many Things At A Time?
T.I. goes to the gynocologist with his daughter to verify her Hyman is still in tact to make him feel she's not having sex, YG has his daughter smelling his weed which she calls broccoli, Popeyes customers and employees fighting to the death around the country...

Y'all good?

— TITO BLIZZARD ❄️ (@infamousRIOT) November 9, 2019
SMH
Waittttt so YG recorded a video of him letting his daughter smell some weed and asking her what it smell like ? Smh

— rawasskels (@rawasskels) November 9, 2019
YG is a father of two daughters—Harmony and Vibe. The American rapper has recently been in the headlines for his hatred towards Trump and also his leaked footage of cosying up to another woman. The video sparked accusations if YG is cheating his girlfriend, Kehlani Ashley Parrish.