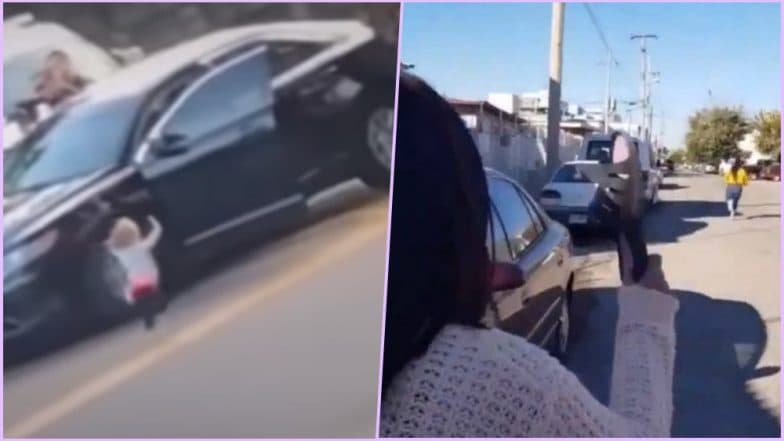 You might whine and complain about the internet. But when it comes down to it, you watch those five-second videos every damn time. After all, that is what keeps you entertained during your regular chores. It will not be wrong saying that viral videos remain the best thing to come of the internet and we are so glad that they make it this well. While #10yearchallenge is still on the go, this week was blessed with a bountiful viral video harvest. It is time again for us to relish all of them.
Yes, there were a lot of videos that went crazy viral and appeared on all news headlines across the world. But there were a few which warmed the netizens, and they still cannot stop sharing them on the social media platforms. Below we have listed down top seven clips that were all over the internet this week. From the two-year-old toddler walking with hands up towards the Florida Police to the recent angry mum's 'flying chappal' at her daughter, all of them were well received on the internet.
2-Year-Old Walking With Hands up Towards Florida Police Like a Criminal
When this short clip was put up on the internet, it created a lot of controversies concerning the officers' actions. However, a longer video later appears to have changed the minds. As the child toddles down the street barefoot, the officer's tone softens as he calls her over and assures her, she is ok. He tells her to go to mommy, who was standing nearby and scoops her up. The video is reportedly from Tallahassee, Florida.
Chinese School Principal Dances With Students to Motivate Them to Exercise
This Chinese primary school Principal is the internet's favourite teacher. He gracefully rejected the government's daily exercise programme and came with his own shuffle dance to teach it to the students. Identified as 40-year-old Zhang Pengfei in the South China Morning Post, the Principal started his routine of dance exercise that includes jazz dance steps with a mixture of contemporary style. The video is viewed more than five million times by the netizens on Facebook alone.
Man Walks on Russia's Frozen Baikal Lake
This video is just a reminder of how amazingly beautiful nature is. With temperatures dropping way below average, Lake Baikal has turned frozen putting on a stunning display. It is the world's deepest lake at 1,700 metres located in Russia. A man who recorded himself walking on the icy lake has given the internet a mesmerising over the top view of the water body. Ah, it so beautiful!
Driverless Buses in Japan's Haneda Airport
While social media is full of cutest videos, it also has enough space to share Science and Technology Advancement. Japan being a developed country is now gearing up to welcome driverless buses at Haneda Airport. The test drive has been widely shared on the internet with people lauding the initiative. According to reports, self-driving buses are a part of Japan's first series of an experiment which is restricted only to carry passengers within the airport premises.
Makeup on an Egg
یعنی میخوام بگم با این همه ارایش، حتی تخم مرغ هم خوشگل میشه pic.twitter.com/bdM8De1cii

— •نازنینا• (@_maripela) January 19, 2019
Well, an Egg has made the internet go crazy. All these years, we have broken them to fill our tummy, but this time, it got back fair to us. The stock image of an egg broke the record of the highest liked photo on Instagram which earlier belonged to Kylie Jenner. It even entered the make-up world. In the video, the artist @_maripela used all kinds of makeup products on the egg—right from foundation to fake eyelashes. Since, the brown egg is the talk among the netizens; it was indeed an enlightened way to give it a makeover; keeping it on the limelight up and again.
Meet 5 Gene-Edited Insomniac Monkeys
As said earlier, the internet has a lot of space to appreciate the scientific initiatives too. Although a controversy, the Chinese researchers have taken the cloning to another level. When they announced to have cloned five monkeys, the social media users cannot stop but gave these little ones a warm welcome. All of them was cloned from a single animal that was genetically engineered to have a sleep disorder. The five infant macaques will help the doctors to study human psychological problems.
Angry Mum's Flying Chappal at Her Daughter
¡Nunca subestimen el poder de la chancla! 😂 pic.twitter.com/Btmib1JUol

— Niño Triqui (@nino_triqui) January 16, 2019
'Flying Chappal' is a big deal for us Indians, and we do not take it casually. Most of us have faced our mother's wrath, which we still joke about, but dare to mess with her again. However, Indian mothers hitting technique have reached abroad. This viral video shows a raged mother from Mexico tossing a flip-flop at her daughter who was running away. It flew across 30 meters to accurately hit her daughter. The reason behind this furious action is still not known, but the internet could reasonably speculate.
Here you go, from cutest to nature's beauty to scientific advancement, this week the internet had a fair share of almost everything that the netizens crave for. We eagerly wait for what more the internet has to offer next. Happy weekend!