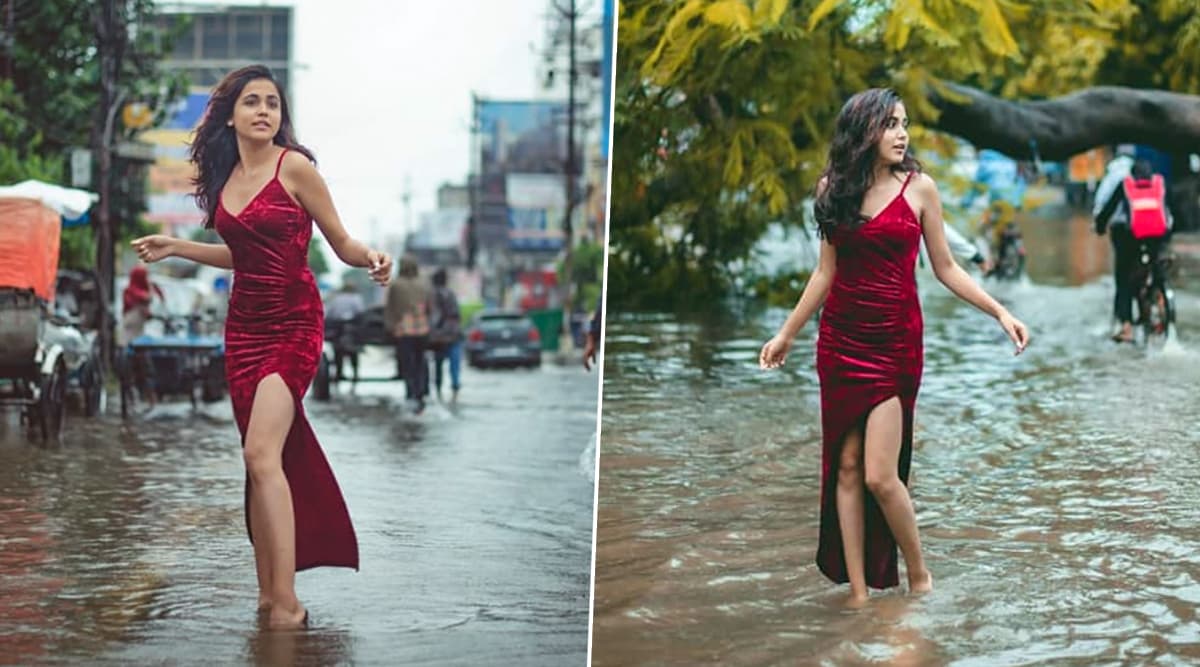 Patna, September 30: A photoshoot intended to project the ravaging Bihar floods in a different light fetched mixed reactions on social media site Instagram. The photoshoot titled 'Mermaid in Disaster' - and 'shot during the flood like situation in Patna' enraged social media users who derided the photographer for his project. On his part, the photographer named Saurav Anuraj, said that he did not want to glorify or use the floods to gain fame, but instead turn people's attention on the devastating floods in his own manner. Bihar Floods: 29 Dead, Patna Worst Hit; State Govt Asks IAF for Two Helicopters to Help People in Affected Areas.
In the photoshoot and images that have gone viral, a young girl is seen dressed in a half-slit red dress. She is posing in a manner that suggests she looks out of place from the situation she is placed in. The model is also seen wearing heels in the waterlogged streets of Patna, which is witnessing the worst floods in a decade. The model in the photoshoot has been identified as Aditi Singh. She is a student of the National Institute of Fashion Technology (NIFT), said reports. Bihar Floods: Deputy Chief Minister Sushil Kumar Modi, Stranded at His Patna Residence, Rescued; Watch Video.
See the Picture in the Instagram Embed Below
In another photoshoot, the girl is seen looking for someone as if she is in search of help. The setting of the picture involves a street partially in flood-water and an Amitabh Bachchan poster in the background.
See the Picture in the Post Below
However, the pictures received mixed reviews. While many lauded the photographer for the "creativity" in the photoshoot, there are others who expressed their displeasure at the photoshoot.
One of the users said, "Tragedy cannot be glorified." Another replied on the image and qestioned the motives of the photographer. There are scores of others who commented and made personal remarks on the girl in the photoshoot.
After facing flak, the photographer himself shared a making video of the photoshoot. He said in the caption that it is easy to criticise but takes a lot to do something what had done.
Watch the Video Below
But there were also many who praised the photoshoot. "Creative shot with creative mind," wrote an user. "So inspiring man!🔥" wrote an user. "Good concept to make ppl aware of the situation," said another. Well, the photos are there for everybody to decide.