New Delhi, September 21: A horrific incident followed by more horror at the police station has been reported by a sexual assault survivor from Delhi. A lawyer in the national capital, the girl took to the social media to speak about how an evening walk in the park to end a stressful day became a shocking horrific one. The girl wrote about how she fought a person who tried to rape her at the park and also the struggle that followed to get a police FIR filed against the man. The Facebook post reveals apathy by the Delhi Police through photos and videos and also raises more questions on the security of women in the country.  Fit India Sans Women? Survey Says Most Indian Girls Feel Unsafe While Going For Morning Walks
Recounting the horror, the girl wrote that she came back upset on a stressful day and decided to go for a walk at 7 pm on Thursday in a park nearby in Amar Colony in South Delhi. She said that while she was at the park, it was dark and she felt someone trying to pull her and then tried to hold her by the waist. Following this she resisted, shouted and pushed the man. The man then pushed her back, following which she used her mobile phone's flashlight to see his face. When she got back up and tried to catch hold of him, he ran.
Screenshots of the girl's Facebook post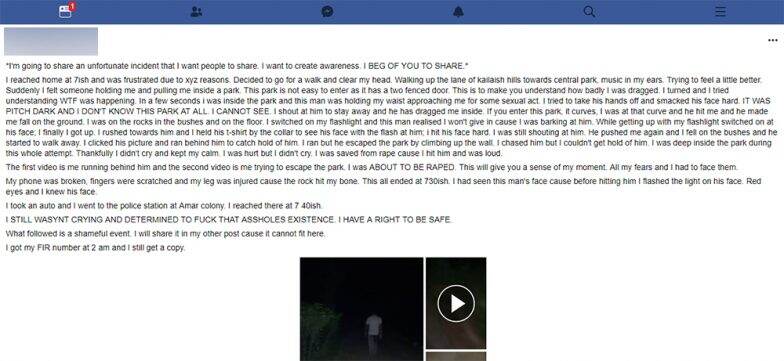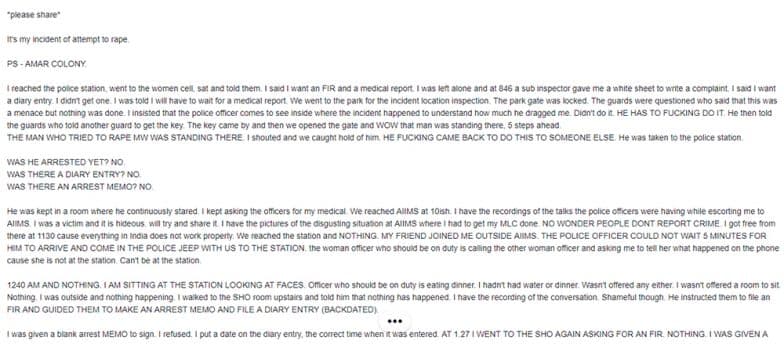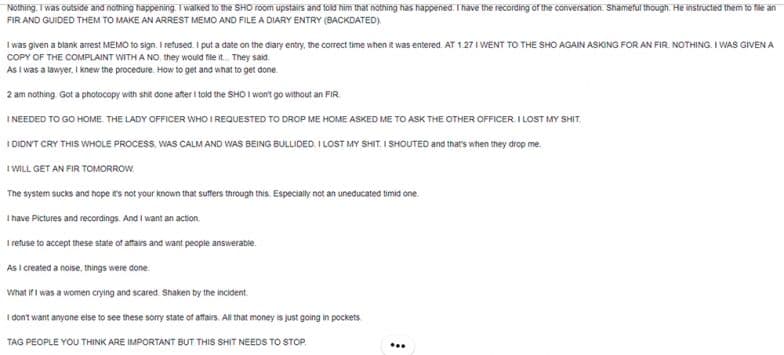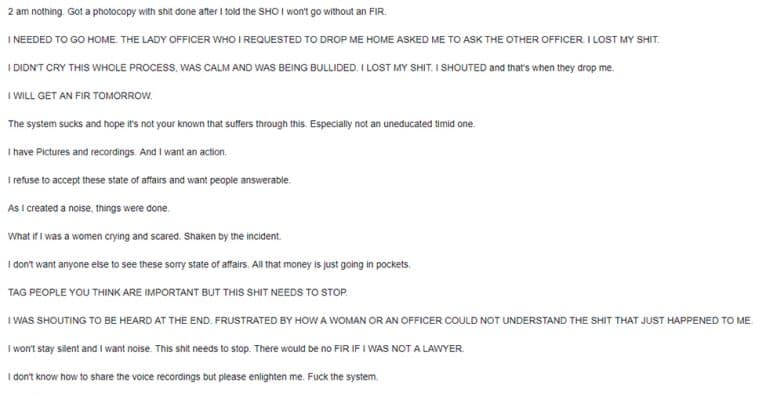 The girl made a video of the man while trying to chase him as he ran. She made sure she didn't go weak or cry throughout the whole incident. When she failed to catch hold of the man, she headed straight to the police station, where she faced worse. She has further written about how the police didn't file an FIR for the longest time.
She reveals that she went to the spot with the police late at night and found the alleged accused right there, but he was not arrested. She also explained the lack of facilities at the All India Institute of Medical Science (AIIMS) where she was taken for a medical check-up, something that she was told was a necessity before an FIR was filed.
She has ended her post by saying that she kept her calm and didn't break down even once throughout the whole ordeal and could not imagine what women who break down must be going through in such situations.