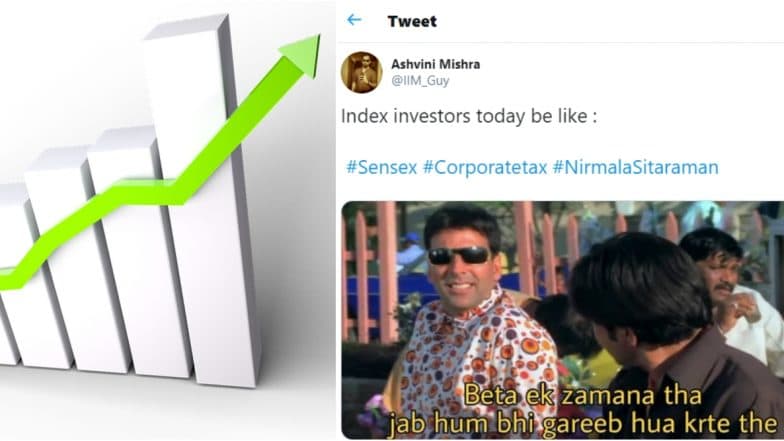 Mumbai, September 20: Union Finance Minister Nirmala Sitharaman on Friday slashed the corporate tax rate for domestic companies to 22 percent (inclusive of all cesses and surcharges). The rates were cut from the existing 30 percent, which was fixed in 2014. The rate cut led to great joy in India's corporate world and capital market. The sensex shot up by over 2,000 points following the rate-cut announcement and Twitter went into a frenzy. Funny tweets and memes were exchanged following the announcement in the rate-cut. GST Council Approves Proposal to Hike Rates on Caffeinated Drinks; Soft Drinks, Energy Drinks And All Other Drinks Set to Become Expensive.
Considering the issue of corporate tax being reduced by the Union government amid economic crisis, here's the memefest and funny tweets on Twitter. Corporate Tax in India Now Second Lowest in Asia After Nirmala Sitharaman Announces Rate Cut; Here's Where it Stands in The World.
See the tweets and Memes Below
*Stock holders after earning lakhs of rupees*#Sensex #Corporatetax pic.twitter.com/DwE1LLTVBD

— Tweetera🐦 (@DoctorrSays) September 20, 2019
The Paragliding Feeling
reduction in #Corporatetax

Sensex :#corporatetaxcut #sensex pic.twitter.com/1HD2WGuWGz

— CHEEKU 🌼 (@Okay_Bye___) September 20, 2019
Traders Tonight Be Like
#Corporatetax cut.#Sensex and Market: pic.twitter.com/zGZ9sAsfZ6

— Pulkit (@voxxpopli) September 20, 2019
Eicher Motor Shareholders Be Like
#Corporatetax Meanwhile Eicher Motors Shareholders be like. pic.twitter.com/hybU5WyX0t

— Raj K Bansal 🇮🇳 (@SurnameChokidar) September 20, 2019
Stock Brokers Enjoying the Moment
Stock brokers. #corporatetax pic.twitter.com/YePRV6E6IG

— Puneet B (@OnestoPuneet) September 20, 2019
Sensex And Nifty Be Like
Sensex and Nifty right now.#Corporatetax pic.twitter.com/IR3hcoQCWI

— Roastyourself (@niimz94) September 20, 2019
FM Nirmala Sitharaman's Weekly Conference and Swag
No one:#NirmalaSitharaman

Every weekend : Let me present you..The BUDGET!!

💼💼🤔❌❌❌❌👉📚📚👍😎!#Corporatetax #sensex pic.twitter.com/Zb6pCjyeMG

— WATCHER (@Jk42154007) September 20, 2019
Shareholders Having One Hell of a Time
Shareholders after reduction in the #corporatetax pic.twitter.com/pOWA5TSLQ5

— Shikhar Sehgal (@sehgal_tweets) September 20, 2019
What is Corporate Tax?
Called mostly as corporation tax or company tax, this corporate tax is a direct tax which is imposed by the Union government on the net income of the company. Under this, both public and private companies -- registered under the Companies Act 1956 -- are liable to pay taxes to the government.
The government imposes a tax on the net profit of a corporation which is defined as the financial statement net profit. The net profit is determined by each country under its tax system differently, and based on it, the percentage of tax is to be imposed are decided. For example, in Hungary, the corporate tax is 9 percent, while France charges a whopping 32 percent tax.