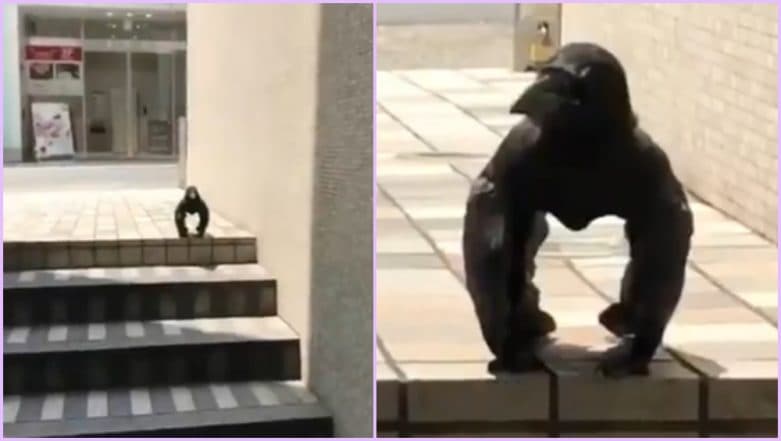 A video of a crow, posing like a gorilla has been going viral on the internet and people online are baffled. The moment the video first appeared on Reddit and Twitter, netizens began speculating whether it is an unusual crow. Some event doubted the authenticity of the clip. The video shows the crow, dubbed as "gorilla crow", perched on its big wings, giving it an ape-like posture of standing on its forearms. The crow soon started to appear on Instagram, Facebook and other social media platforms, terrifying internet users. But before you jump to any conclusions, here is something you should know about the mighty gorilla crow. Cat or Crow? Yet Another Photo Illusion Goes Viral on The Internet. 
According to people and various reports, the clip was shot at Parco shopping centre in Nagoya, Japan. The viral video garnered a lot of comments, with speculations behind the crow's unusual pose. Crow Asks Woman in Yorkshire, 'You Alright Love?'
Watch Viral Video of 'Gorilla Crow'
therapist: you don't need to be afraid of gorilla crow. gorilla crow isn't real.

me, looking out the window: pic.twitter.com/5Yz8rkIikU

— llama (@LlamaInaTux) June 22, 2019
Netizens attempted to figure out the process of how such a creature might be created.
— Donkeylips (@TheDonkeyLips) June 23, 2019
Seriously?
Counterpoint: pic.twitter.com/lt5GybjAn3

— ringtrick (@ringtrick) June 23, 2019
Here's What the Crow Might Actually be Doing
To calm baffled commentators, Kaeli Swift, who has a PhD in crow death behaviours, stepped in with her explanation. In her Twitter, she wrote that it is a large-billed crow, explaining the out-of-proportion face of the bird. Crows Have Sex With Their Dead? New Study Points Funeral Conducting Birds Have Some Weird Behaviour!
Large-Billed Crow:
There's a very strange (uncredited) video of crow making the rounds on reddit. Here's the deal. First, this is a large-billed crow, which is why the face is looking a little out of proportion. pic.twitter.com/LUYuMimvAp

— Kaeli Swift, PhD (@corvidresearch) June 22, 2019
In a second tweet, Swift explained the crow definitely has legs and in this case, the bird might be sunning, which is a common behaviour among them.
It Might Actually Be Warming Itself Up:
In any case sunning like this is a common behavior among birds. Sometimes it's about warming up but a lot of times you'll see them do it when it's hot out. In these cases it's about feather care. Sun exposure can reduce feather degrading bacteria and mites.

— Kaeli Swift, PhD (@corvidresearch) June 22, 2019
She Even Drew A Sketch:
Here's some doodles pic.twitter.com/iyFCNcUSY7

— Kaeli Swift, PhD (@corvidresearch) June 23, 2019
However, there appeared another sad reason, behind such postures, like Scientist Dave Slager from the University of Washington explained.
Sunning is a possibility. Another is that the bird might be emaciated. The keel looks highly pronounced here, which could indicate loss of breast muscle. Tired or hungry birds also often droop their wings down like this.

— Dave Slager (@dlslager) June 23, 2019
If at all the video is real, we really hope that Swift's explanation is the real reason behind the crow's weird pose. As it turns out, it is just another large-billed crow.