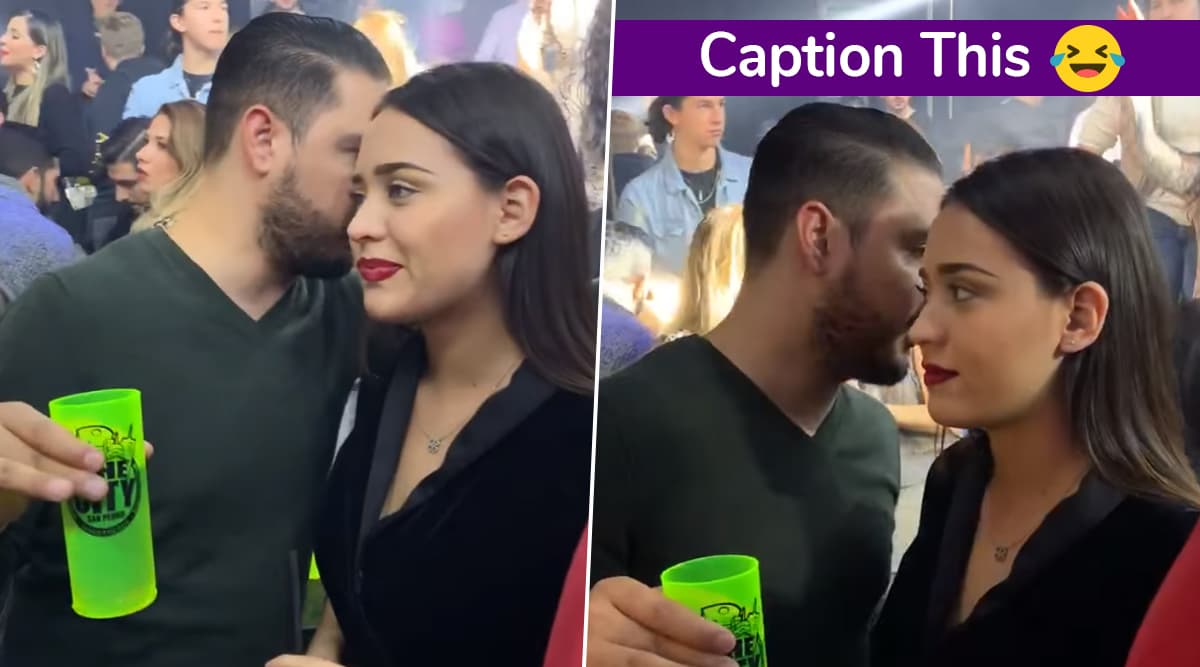 Last year, a female clubber looking bored to death and unimpressed by a young man who shouts in her ear was hailed as the "most relatable" viral meme on the internet. You sure remember the two revellers from Bourbon club in Edinburgh who inspired tens of thousands of memes going crazy viral on social media. Well, the moment is back again with a new twist and a new couple! Yes, you read that right. A short video of a man whispering to a woman in a club went viral on social media. Initially uploaded on Twitter, the clip shows the woman not quite interested as to what the man was whispering in her ears, most likely to the previous ones. Internet was quick to relate the recent ones, and this time has come up with a broader range of buzzwords. The hilarious reactions on "guy talking to a girl in a club," are going viral insanely on the internet. 'You're Gonna Tell Your Kids' Memes Take Over the Internet! Netizens Recreate History Hilariously and We Can't Stop Laughing Either. 
According to Know Your Meme, Twitter user, @campmarylu tweeted a short video of a man talking to a bored-looking woman at a club with the title, "caption this." It joked in a similar manner to the Milk Edinburg picture. However, the tweet and account have since been deleted. But it could not escape the netizens' eye. The clip was reported to Facebook by Barstool Sports, and social media users are going crazy while hilariously captioning the viral moment. 'Was Invented in…' Memes Are Getting Funnier! Hilarious Tweets Explaining How Life Used to Be Before Inventions Go Crazy Viral. 
Watch the Viral Video:
Twitter users quickly responded to the viral tweet by adding humorous sentences to what the man could be saying. What is the twist? People were more specific this time. A significant section of social media focused on stereotypical male-centric topics which women could not care less, such as fantasy sports and pop culture media.
Fantasy Football:
Me explaining that even though I'm in 8th place in fantasy football, if I run the table and these other 4 teams lose all remaining games, I have a shot at the playoffs

— PMTCommenter (@CommentatorPmt) November 20, 2019
Only Star Wars and Marvel Universe Fans Can Relate!
"And then, these big metal four legged machines called an AT-AT's come over the horizon towards the rebel base. That's the one on Hoth, the snow planet and sixth one in the system where the rebel's are hiding... Anyway, these AT-AT's attack the base and Luke and his team..."

— Trooper-TK421 (@TrooperTK4211) November 20, 2019
High Speed Bullet Trains in US! Seriously?
The problem with high speed 'bullet' trains or maglev trains in America lay mainly in the fact that we lack proper infrastructure, and getting that ready especially in the metropolitan areas where it could be most useful is a logistic nightmare. Not to mention the bureaucra...

— Saltshow (@anFleshman) November 20, 2019
The couple and the night club has nowhere been identified. But it has undoubtedly impressed the netizens reminding them the previous year's craze over the 'guy talking to girl' hilarious memes. The life of this meme seems to go on for a more extended period, as long as we have stereotypical man babbling about things that women have no interest, the meme trend has a longer life-span. With more new party revellers, maybe!