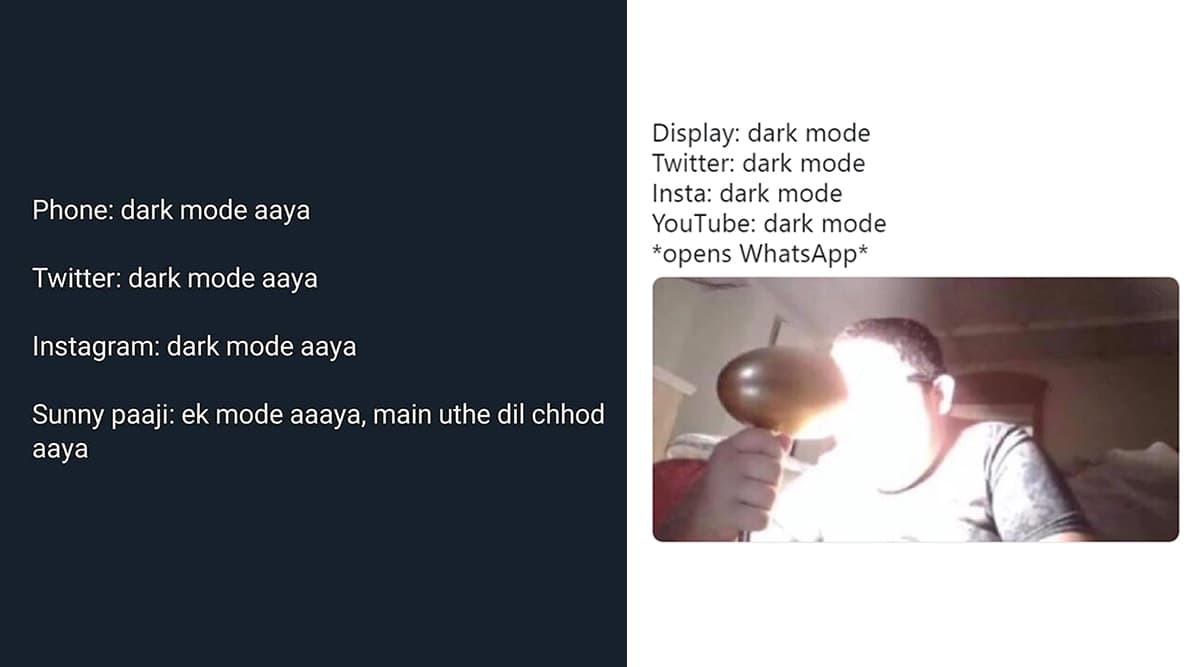 Some love dark humour, some of us have dark futures, but the internet is currently tripping on social media apps' dark mode memes. Ironically, these dark mode memes are LIT as fire. In just a small timespan, most of our favourite social media apps like Instagram, Facebook Messenger Twitter and YouTube rolled out their dark mode feature and people are totally loving it. But since you know, it is 2019, and the most random of things go viral to become fodder for funniest meme and jokes. So here we are, with super hilarious dark mode memes that will bring the brightest smile on your face.
But before that, a little bit about the benefits of the new feature that has completely changed out screen consumption. The dark mode is said to reduce the mobile phone's battery consumption while improving visual ergonomics. The strain on your eyes is reduced because of the dark mode that causes screens to adjust according to current light conditions.
Well, dark mode seems extremely beneficial, given the amount of time we spend on social media. But while we are at it, let's check out the funniest memes and jokes about the dark mode feature:
The App Needs To catch Up
Display: dark mode

Twitter: dark mode

Insta: dark mode

YouTube: dark mode

*opens WhatsApp* pic.twitter.com/1kIH9xAUTh

— 🥀 (@jossie_t) October 10, 2019
But You Don't
Me with iPhone's new #DarkMode... 🖤 pic.twitter.com/8v0cXGhDza

— Dylan Thorpe (@dylanmthorpe) October 8, 2019
Woahhh
Me after putting my Instagram on dark mode. #darkmode #Instagramdarkmode pic.twitter.com/XKPpdypLs6

— lil' hillary. (@ChillaryClints) October 8, 2019
Yaaas
Yoooo Instagram has dark mode now?!? My life is made!!!! #Instagram #darkmode pic.twitter.com/BEi6LAkM06

— AJ (@aj_zavala) October 8, 2019
Dayum
View this post on Instagram
Desi
Me Changing all Apps to #DarkMode pic.twitter.com/IIUzJ8uOMf

— Amit Chaturvedi (@Amit_knc) October 10, 2019
ROFL
Very less people know actually this picture was taken after introducing #DarkMode :- pic.twitter.com/OTtxsyMkxo

— Dilip Rangwani (@ItsRDil) October 10, 2019
Can't Stop Laughing
When you come out of "dark mode" social media apps pic.twitter.com/uF1sO3VWIK

— Kaalkeya (@BaahuNeMara) October 10, 2019
Relatable
my life switched into dark mode before it was cool

— Tina (@kaafitweets) October 10, 2019
You Listening, Snapchat?
View this post on Instagram
For those who don't know, search engine giant Google has started rolling out the dark mode update for its Play Store, after the release of Android 10. With the new update, all apps on the Play Store are set to gradually get a dark mode of their own. A black-themed Play Store is being rolled out on Pixel handsets at present.