In the latest development to the controversy surrounding Kalyan Jewellers' latest television commercial featuring Amitabh Bachchan and daughter Shweta Nanda, the brand has apologised to the bank union and has agreed to put a disclaimer. The ad has been facing a backlash from a bank union, All India Bank Officers' Confederation who have referred it as 'disgusting' and had threatened to sue the brand for "casting aspersion and hurting the sentiments of millions of personnel" through the advertisement.
In a letter written to the bank union, a copy of which is with LatestLY, Kalyan Jewellers has clarified that the ad is a work of pure fiction and at no time, the ad has intended to generalise the bank officers at large. In the letter, the brand has mentioned that they would be adding a disclaimer below the commercial within three days stating that 'all characters and situations depicted are fictional. The brand does not intend to disrespect or malign any person or community.'
Read the statement here: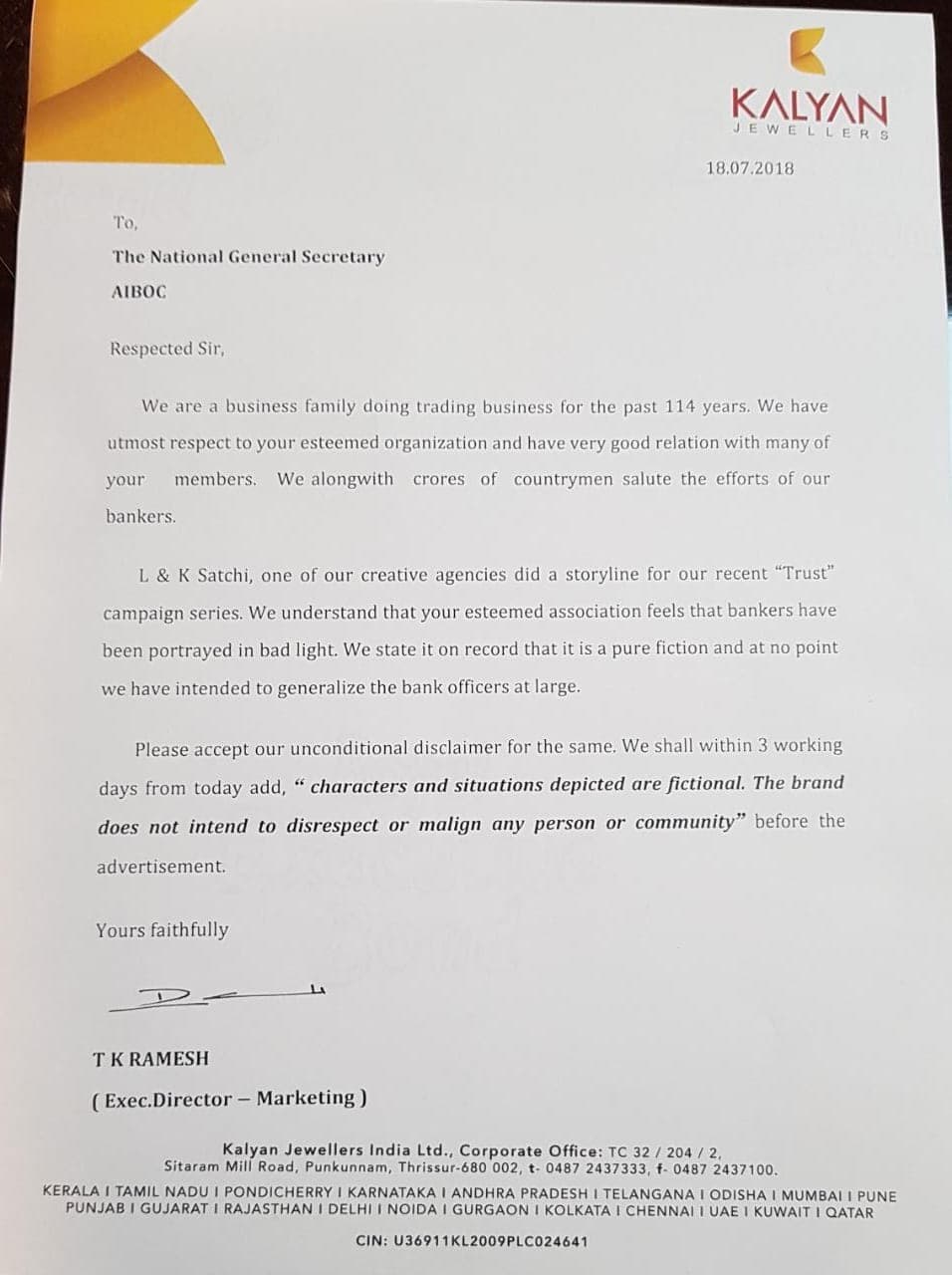 The ad shows Bachchan as an honest retired government servant who refuses to accept the extra pension which seems to have been credited to his account by mistake. He, therefore, goes along with his daughter to the bank to return the extra amount. The father-daughter duo is made to go from one counter to the other, and the bank manager finally tells them, that it is a lengthy procedure, and to go home. The manager even asks why are they taking so much of an effort, because no one will also come to know that his pension was credited twice, to which Bachchan mentions that it is about trust, and he return the money. .
A similar incident took place in 2015 when Kalyan Jewellers' print ad featuring Aishwarya Rai was slammed and termed racist for showing a dark-complexioned boy holding an umbrella under which the actress was seen resting. The ad had to be withdrawn following the social media backlash.