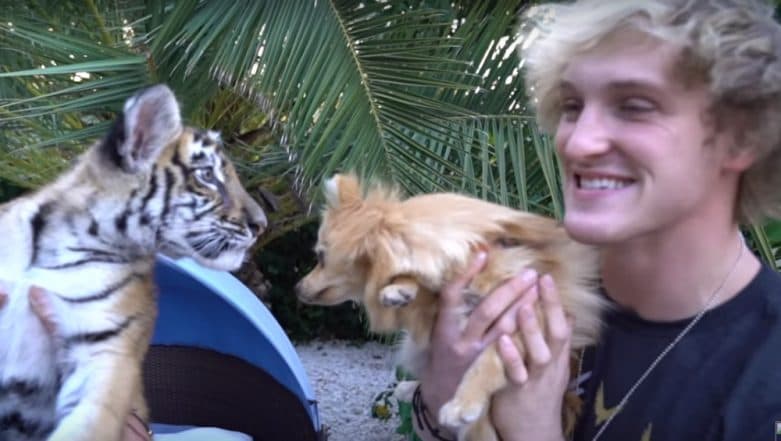 Can controversy stay away from Logan Paul? Well, not for too long! The YouTuber is once again on the headlines, for yet another new squabble which includes a Los Angeles man who appeared in one of his videos last year. Now the man identified by media reports as Nicholas Perkins has been charged for illegal possession and mistreating a tiger cub. The YouTube star with over 18 million subscribers, posted a video in October 2017, titled "Kong meets a baby Tiger! **Showdown**." The video centred Paul taking his Pomeranian dog, Kong to meet the tiger cub for the first time. Highest-Paid YouTubers for 2018. 
Paul who was met with great disdain after his infamous "suicide forest" video said that he was excited to know that someone in Los Angeles had a baby tiger. "It's a baby tiger, how big can it be?" the YouTuber says to the camera while he drives to Perkins house. Upon arriving at the house, the baby tiger in the video can be seen bunched by a wall outside next to a swimming pool. As he pets the tiger, he says, "I just got a house, super cool, but I think I am going to return the house and invest in baby tigers."
Watch the video of Kong Meets a Baby Tiger! **Showdown**.
When Kong meets the larger tiger cub, the two play around just like any other dogs would. The baby tiger was making its growling noises. His video has more than 8 million views. The controversial YouTuber did not abuse the animal during the video. Since it is was featured in such giant platform, the owner of the cub tiger was easy to track down by the police officials.
According to Buzzfeed News, the cops were alerted to an illegal tiger cub in October 2017. An anonymous tip to the California Department of Fish and Wildlife used Paul's video to track the Perkins down. During their search of the property, the officials told the media outlet, "extensive evidence of the animal's poor living conditions and the presence of anabolic steroids." The owner was also allegedly feeding the tiger cub kitten milk replacement formula with a baby bottle. Authorities seized the tiger cub and placed in large cat rescue and sanctuary. It is reportedly recovering.
The Los Angeles City Attorney Mike Feuer while announcing the charges said, "Tigers and other exotic animals are not pets. Keeping these potentially dangerous animals in a residential setting poses a serious safety risk for residents and animals alike. My office will continue to work closely with our law enforcement partners to ensure these treasured creatures are safe and those who illegally keep them are held accountable."