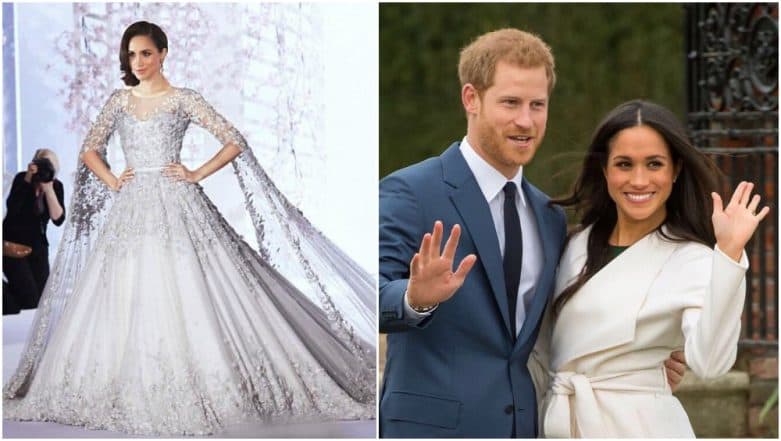 The Royal Wedding of Meghan Markle and Prince Harry is a talking point these days. While Prince Harry will not get to see his beloved in the wedding gown until the ceremony, the details about the wedding outfit are out. Meghan Markle's anticipated wedding gown will be designed by British couturiers Ralph & Russo according to several royal and fashion industry sources. The hand-stitched gown with beaded design will cost approximately £100,000. he whopping price for the wedding outfit will be paid by Prince Harry and the family.
The royal wedding ceremony on May 19, is a much-anticipated affair and day by day a lot of details about the ceremony are coming up. The wedding outfit details too were being kept under wraps but it is reported that Markle herself has chosen the couturiers for both her gowns of the big day. It will have heavily beaded design and has taken a lot of time to be made. 'It sounds a lot but this is the wedding of the year and hundreds of hours of manpower have gone into making it, almost all by hand,' a source was quoted to the Daily Mail. Meghan Markle & Prince Harry's Royal Wedding Guests are Asked to Bring Their Own Picnic Lunch!
The royal family is reputed for costliest wedding gowns. Kate Middleton, Prince William's wife wore a dress that cost £250,000. It was the fifth most expensive dress of all time. Prince Harry and Meghan Markle will walk down the aisle at St George's Chapel in front of 600 guests, and the reception will be held afterwards in St George's Hall at Windsor Castle. Almost an estimated billion people will watch the royal wedding on their TV sets. Know who all is on the Royal Wedding Guest List. 
More details of the wedding state that the newlyweds won't go for their honeymoon until later in the summer. There will be no maids of honour in the wedding ceremony. All the bridesmaids and pageboys will be children. With even the available details about the wedding outfit, we are sure fashionistas will have their eyes rooting for the entire look of it. And no doubts, Meghan will be a spectacular delight to witness in the beaded white gown.