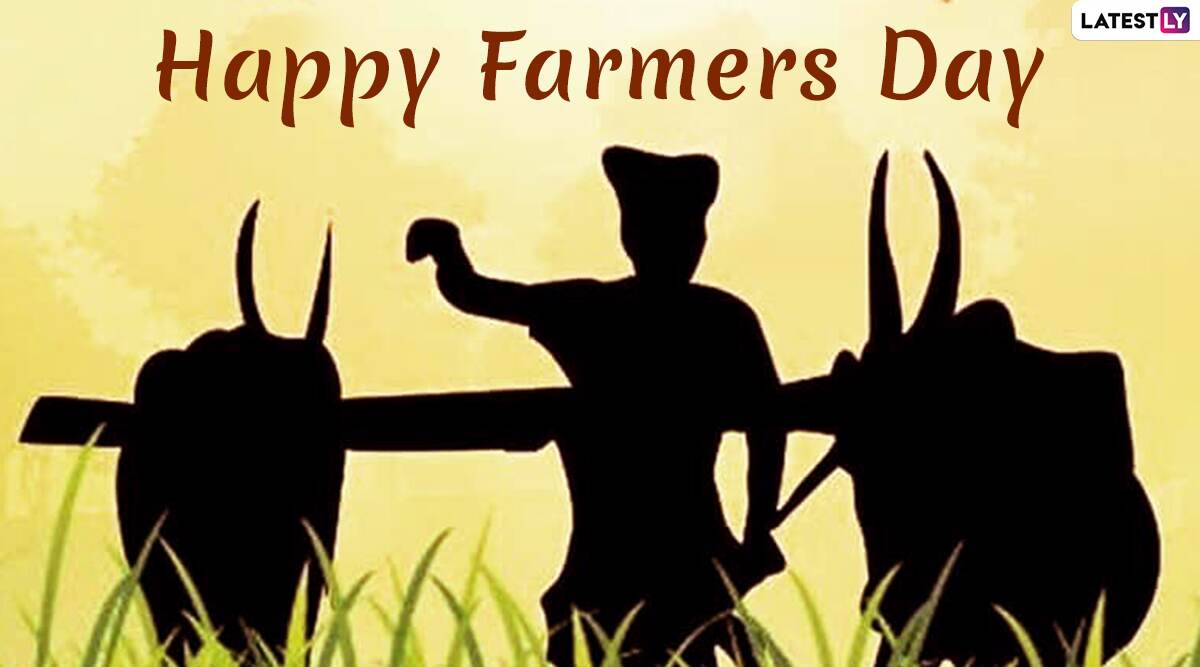 India is an agrarian economy and we owe it to our farmers for the food we consume every day. Farmers are rightly the backbone of our country and to honour their hard work and toil on the field, a National Farmers Day or Kisan Diwas is celebrated every year on December 23. This day marks the birth anniversary of Choudhary Charan Singh, who was the 5th Prime Minister of India. While this day is marked in varied ways in schools, college, government and other non-government organisations, people on social media are also sharing messages, images and quotes to honour the hard work of these people who out their sweat and blood on the field. We have also compiled a few images, wishes and messages of Kisan Diwas 2019 that are trending online this morning. Kisan Diwas 2019 Wishes: WhatsApp Messages, Images, Quotes, SMS, Greetings to Celebrate National Farmers' Day.
Almost 70% of the country's population which comes under the rural section, maximum of them resort to farming. Farmers have a hard life, especially since the last few years where the weather is growing to become unpredictable. The celebration of National Farmers Day or Kisan Diwas aims to draw attention towards the hard work, the issues faced by them and how we can help them in our own little ways. Netizens are also honouring all the farmers by sharing quotes, images and messages appreciating their hard work. #FarmersDay and #KisanDiwas are thus among the top trends on Twitter. Kisan Diwas Images & Farmers Day HD Wallpapers for Free Download Online: Wish Happy National Farmers' Day 2019 With WhatsApp Messages and GIF Greetings.
Check Some Messages and Wishes Trending on National Farmers Day
Farming is not an easy task. It takes hard work, dedication & working under extreme environmental conditions. Every single day farmers take several risks and measures and work tirelessly to provide for the country. They deserve to be respected and acknowledged. #farmersday pic.twitter.com/tQqZxhZ1uF

— Farmer Shivam Baghel (@FarmerShivam) December 23, 2019
Salute to All Farmers
After decades our family decided to farm we eat everyday just because of you farmers thank you for making us eat food Jai Jawan Jai Kisan salutes to all the farmers in the world #farmersday pic.twitter.com/nBlwWU8Ksw

— Yashu (@StupidYashu) December 23, 2019
If You Ate, Thank a Farmer
No farmer..

No food..

No life..

If u ate today, thank a farmer. Salute to all the farmers. ❤❤ 👳💦#farmersday#KisanDiwas pic.twitter.com/qaaiR0Z4p4

— V€Nk@t€Sh🇮🇳 (@urstrulyTV) December 23, 2019
The Backbone of Our Country
Farmers are backbone of a country and you can't stand straight if your backbone is broken. The life of a farmer is very tough as he works very hard day and night in all seasons for us

Happy #KisanDiwas

Happy Farmers Day! pic.twitter.com/ZyvmF3qJro

— Sonal ( Dharmik )🇮🇳 (@DharmikSonal) December 23, 2019
Salute to Their Dedication
On the Occasion of #KisanDiwas let us Salute the Strength and Dedication of our Farmers who strive tirelessly to make sure the nation doesn't sleep hungry. Their contribution to the Nation's growth is beyond words. Deepest gratitude to the farmers of the country. #farmersday pic.twitter.com/dC1j9bWzGB

— YOGENDRA PATEL (@YOGENDR32998118) December 23, 2019
Respect Wealth of a Farmer
To a farmer dirt is not a waste, it is wealth.

Happy Farmers Day!#kisandiwas pic.twitter.com/y0LZZucH2i

— Kunal Sutkar 🇮🇳 (@sutkar_ks) December 23, 2019
As a citizen of the country, it is our responsibility to respect the profession of farmers and value their hard work. They play an important role in building the development of this country and thus their demands need to be of primary concern. On this Kisan Diwas 2019, we also salute to all the farmers who endlessly toil on the field to make our meals available to us.