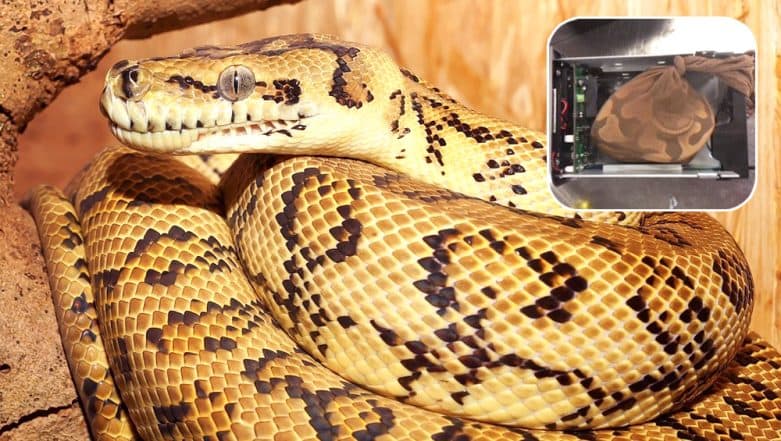 Snakes on a plane were freaky enough in the Hollywood film, but a python had almost made it on an aircraft at the Miami International Airport. The Transportation Security Administration found a python on the external hard drive of a computer, carefully hidden. Thanks to the screening officials, it did not pass through the baggage counters. The incident took place on Sunday, July 8 on a flight headed to Barbados. U.S. Fish and Wildlife Services had to be called in to take possession of the snake.
"The snake, that didn't get on a plane thanks to our officers' diligent screening, had been artfully concealed inside the electronics of a hard drive and placed in a checked bag headed for a flight to Barbados," TSA spokeswoman, Sari Koshetz, told the Miami Herald. The officials, however, haven't given any details about the length of the snake and why was the man carrying it. But it was alive when the alive when it was recovered from the hard drive. Shocking Video of Giant Python Eating an Indonesian Woman Will Freak You Out: Disturbing Images of Human Body Found in Big Snake's Belly.
The passenger, identity not known, also could not fly to Barbados. He was fined for his actions. Koshetz wrote about the incident on Twitter and described the snake was "artfully concealed" by the passenger. Although this was not an imminent terrorist threat to the passengers, it was a possible wildlife threat on an aircraft. Major chaos was averted due to the careful inspection of the security officials.
Take a look at TSA spokeswoman, Sari Koshetz's tweet:
TSA Officers at MIA i cepted this Ball or Royal Python artfully concealed inside a hard drive. This organic mass was not explosive, but it shows you can't hide any threat from us. pic.twitter.com/mmCIQmOKxQ

— TSAmedia_SariK (@TSAmedia_SariK) July 9, 2018
There have been similar cases earlier wherein passengers have tried to sneak in animals on their flights but have been caught. There are instances where animals have broken or chewed on important stuff causing damage. A python is a dangerous snake, and it is still unclear why the passenger had the slithering companion.