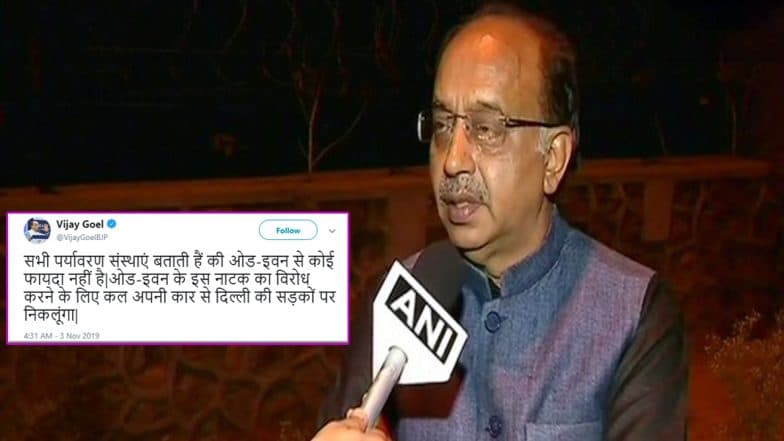 New Delhi, November 4: Bharatiya Janata Party (BJP) leader Vijay Goel was trolled on Sunday when he announced on Twitter that he would defy the Odd-Even road rationing scheme, an anti-pollution measure announced by the Delhi government. In his tweet, Vijay Goel claimed that the Odd-Even scheme did not yield desirable results. He further said that he would defy the rule in protest against the road rationing scheme. Delhi Pollution: Air Quality Remains in 'Severe' Category in Lodhi Road Area, Odd-Even Rule Starts From Today.
"All environment-related organisations have concluded that the Odd-Even was not fruitful. To protest against this Odd-Even drama, I will drive my car tomorrow," Goel tweeted on Sunday. On Monday, he said that he, along with Shyam Saju, will drive his car from his residence to ITO. Reacting to his tweet, netizens reminded the BJP leader that his attempt to protest against the scheme would only contribute to the rising pollution level. Twitterati trolled Goel with reports saying the Odd-Even formula helped to combat air pollution in Delhi.
Vijay Goel's Tweet:
सभी पर्यावरण संस्थाएं बताती हैं की ओड-इवन से कोई फायदा नहीं है|ओड-इवन के इस नाटक का विरोध करने के लिए कल अपनी कार से दिल्ली की सड़कों पर निकलूंगा|

— Vijay Goel (@VijayGoelBJP) November 3, 2019
I along with @ShyamSJaju will drive my car to ITO to oppose #OddEven drama" today 4th Nov at 12:00 noon from my residence.

— Vijay Goel (@VijayGoelBJP) November 4, 2019
Twitterati Troll Vijay Goel:
Sabhi @VijayGoelBJP ji ? Jara naam batana ?

Because Harvard University , University of Chicago , IITD , IITK , IITM , PUNE-CSIR ,and TERI toh aisa nahi manti 😂😂😂

Source 1 : @htTweets

Source 2 : @TOIIndiaNews pic.twitter.com/f96kep2zCK

— 🐯 Akshay Rakshit 🕊️ (@coherent_akki) November 3, 2019
Sir boond boond se hi sagar bhrta hai. Exam me full marks pane ke liye 1-1 marks ke question bhi krne hote hai. Odd even bhi usi ki trh hai.

But yes your arrogance is more important.

— Ananya Shekhawat (@Ananya18531677) November 3, 2019
सर दिल्ली सरकार प्रदूषण को कम करने के लिए सभी सभंव प्रयास कर रही है , प्रदूषण के बढ़ते क्रम को रोकने के लिए आपको भी साथ आना चाहिए, अगर आपके पास कोई फॉर्मूला है तो उसे केंद्र सरकार के शेयर कीजिए

— बिंदास 🅱OL™シ (@ajayy1973) November 3, 2019
MP sahab

Apni car ghar par rehne dijiye aur cycle use kariye

Aap car laoge , aapke bhakt bhi car laayenge aur woh bhi sirf rajneeti ke liye , kisi zaroori kaam ke liye nahi

— Pradeep Gupta (@68pradeepgupta) November 4, 2019
Goel, a Rajya Sabha member who is considered as one of the top faces in the race of being Chief Ministerial candidate for BJP, had also broken the odd-even rule and paid a fine of Rs 2,000 when the scheme was implemented by the Kejriwal government in April 2016. Apart from the general public and supporters of the Aam Aadmi Party (AAP), even those who support the BJP went on to slam Vijay Goel over his bizarre idea of protest.
BJP Supporters Hit Out at Vijay Goel:
बीजेपी को डुबाने का ठेका लिए हो क्या? जो नौटंकी कर रहे हो।

— AजीT Kumar (@ajitakki) November 4, 2019
एक महीने पहले घोषित कार्यक्रम का विरोध क्या पहले से ही नहीं कर सकते थे

दिल्ली से बाहर वाले हम भाजपाईयों को देख कर बड़ी खीज आती है कि @BJP4Delhi के सारे नेता @ArvindKejriwal के सामने बौने नजर आ रहे हैं

— Girdhari Lal Goyal (@Girdharilalgoyl) November 3, 2019
I am BJP supporter but hate Vijay Goel and BJP Delhi team. @AmitShah @PMOIndia please kick them out.

— Kash_1857 (@kash_1857) November 4, 2019
The Odd-Even is a car rationing system where through vehicles running with number plates ending with even numbers like 0, 2, 4, 6 and 8 will be allowed to run on even dates, while those with number plates ending with odd numbers like 1,3,5,7 and 9 will be allowed to run on odd dates. This is an attempt to curb the number of cars plying on streets and hence bring down the pollution emanating from vehicles to a certain extent.