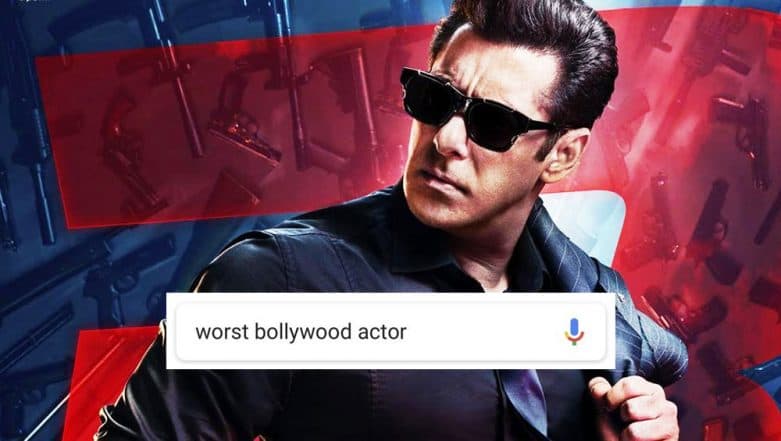 Google is good at predicting your search results. Many a time even before you complete your search words, it gives you the suggestions based on the most common searches. Currently, there's a search of 'Worst Bollywood Actor' that's trending, the reason being the search results. Bollywood's Bhai, Salman Khan's name pops up if you search for the worst actor in Bollywood. Is the actor's latest action click Race 3 to be blamed for this answer? The movie may have been doing great in terms of box-office collections, the highest opening of the year till now, but the film has not got any good review.
Salman Khan's die-hard fans ensure his movies get the big openings but Race 3 became the butt of many jokes on Twitter. People who watched the movie were not at all impressed and enjoyed their time making memes out of it. Daisy Shah's dialogue of 'Our Business is Our Business....' was trending much before the movie's release, for all its jokes, again. Dear Salman Khan, It's High Time You Stop Your Employment Schemes Like Race 3 and Taking Your Fans For Granted!
Have a look at Google Search results: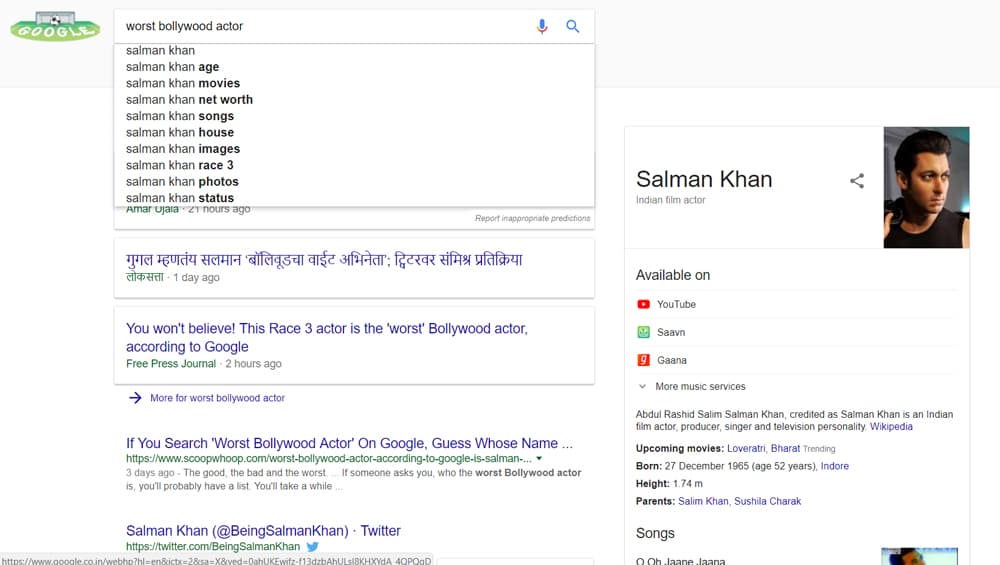 With the new search result, we wonder if Race 3 affects the repute maintained by Salman Khan over the years. The trend is once again on Twitter with the fanatics calling out to Google going the length to ask the actor to sue it as well! While those who watched Race 3, expressed happiness that Google was finally right!
Take a look at some of the Twitter reactions on Salman Khan as 'Worst Bollywood Actor':
When you search for worst bollywood actor on google 😂😂

Google wishing #Eid to Salman khan#race3 #SalmanKhan #EidMubarak pic.twitter.com/N18FUx5oQJ

— A N I S H K A S H Y A P (@BadassBawa) June 16, 2018
Peaceful realisation?
Go to google and type worst bollywood actor. The answer will give you inner peace!!! 🙂🙂🙂🙂🙂

— Annya (@AnnyaDasGupta33) June 15, 2018
These results were noticed after Race 3's release and we do not know if it is a technical glitch or the entire 'glitch' of the movie. The songs of the film were not up to the mark and leaving a few action scenes, other things were particularly cringe-worthy. Well, Salman Khan has given some of the best acting performances in his earlier movies and we are sure that is what fans too would be expected of him. The disaster of the film Race 3, may not translate in the box-office collections, but the fact that the biggest search engine discredits all your work into 'worse,' has a lot to speak for itself.