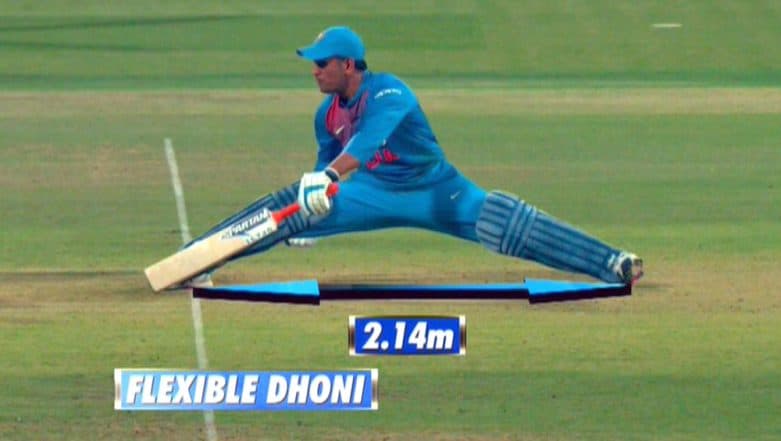 Last night was quite disappointing for the Indian cricket fans as Virat Kohli and men lost the second T20I against Australia. KL Rahul, Virat Kohli and MS Dhoni's swashbuckling innings went in vain as India lost the game by seven wickets and thus the Aussies won the series by 2-0. KL Rahul scored 47, Virat Kohli made 72 and MS Dhoni got out on 42 runs. However, apart from his innings, the former Indian captain was in the news for the split he performed during the second T20I and impressed the netizens with his amazing flexibility which could give an athlete a run for his money. Virat Kohli, MS Dhoni Created These Records During IND vs AUS 2nd T20I in Bengaluru.
It was in the 11th over when Adam Zampa was bowling and Dhoni went down the pitch to hit big. But the ball went past him as Zampa bowled a wide. Dhoni immediately realised the situation and performed a split to get back into the pitch before Peter Handscomb could rip the bails off. It was quite obvious for the video of the incident to go viral. IND vs AUS 2nd T20 2019 Video Highlights: Glenn Maxwell Fires Australia to Maiden T20 Series Win over India.
Flexible Dhoni ❤💥

2.14m 😇 pic.twitter.com/fTnSwULGTP

— Ponraj (@goking2000) February 28, 2019
The netizens could not help but praise Dhoni's fitness. Check out a few tweets below.
Here's what the BCCI had to say.
How's that for a stretch from @msdhoni 😮😮

📹📹https://t.co/9hYmrJBmii #INDvAUS pic.twitter.com/MXvXIvov0G

— BCCI (@BCCI) February 27, 2019
Needless to say that this netizen is quite impressed with Dhoni.
Dhoni pulled off the leg stretch against Zampa twice now. Amazing flexibility! 🙏

— ISHAN KISHAN FC (@Ishankishann) February 27, 2019
Last one.
Oh! Damn, MS Dhoni on that stretch again. 😱 #INDvAUS

— Arjun (@LifeIsAnElation) February 27, 2019
Talking about the match, India put up a total of 190 runs on the board. In reply, it was Glen Maxwell's 113 runs that took away the match from the hosts. Maxwell hit 113 runs from 55 balls with seven fours and nine sixes.