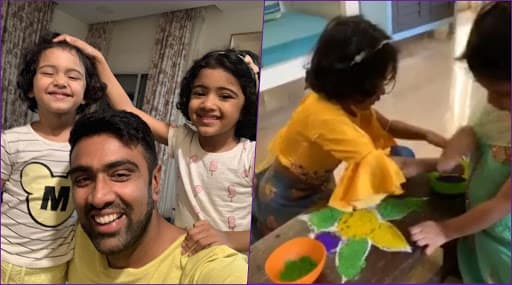 Indian cricketer Ravichandran Ashwin shared a video on his official Twitter account, where his daughters Adhya and Akhira could be seen drawing a rangoli on the occasion of Pongal while getting ready to celebrate the festival. Pongal is an important festival of Tamil Nadu, which starts on January 14 with Bhogi Pongal and will conclude on January 17, 2020, with Thai Pongal being celebrated on the 15th. During this harvest festival, various rituals are performed thanking the Sun God for agricultural abundance. Ashwin himself being from Tamil Nadu is celebrating this auspicious festival in great enthusiasm with his family. BCCI President Sourav Ganguly Hails Highest Wicket-Taker R Ashwin, Says 'Goes Unnoticed Sometimes'
Indian spin bowling specialist Ravichandran Ashwin recently posted a video of his daughters celebrating the festival of Pongal by drawing a kolam. 'Pongal celebrations in full swing' the spin-bowling all-rounder captioned his post. Ashwin is celebrating the festival with great fervour and has urged people to enjoy the festival in a cautious manner as in a recent tweet, the off-spinner pointed out the layer of smog that has engulfed Chennai following the bonfires that were lit on the day of the Bhogi festival.
See R Ashwin's Post
Pongal celebrations in full swing.🤩 pic.twitter.com/TxwTIE30Rz

— Ashwin Ravichandran (@ashwinravi99) January 15, 2020
Ravichandran Aswin recently played for Tamil Nadu in a Ranji Trophy 2019-20 clash against Mumbai which ended in a draw. The bowling all-rounder was in fine form during the game as picked up 3 wickets for 121 runs in the first innings and then was crucial with the bat as he added 79 runs to help his team cut the run gap between the teams. Tamil Nadu faces Railways next on January 19, 2020, and will look to get their first win of the campaign.