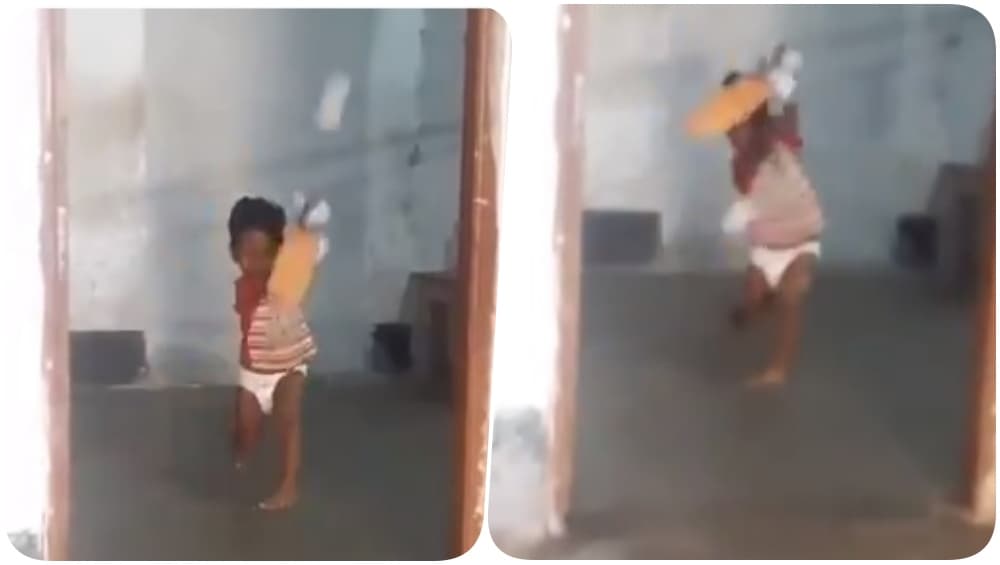 Cricketers from all over the world have inspired the young minds and on several occasions do we see kids picking up the bats and swapping it across like a pro. Many kids copy the batting and bowling action of their favourite cricketers and even the cricketing stars encourage the kids to pursue the sport. Now, here's another example of a kid who is still in his nappies but has an amazing cover drive that reminds us of the former Indian cricketer and legend Sachin Tendulkar. Jasprit Bumrah on the Viral Video of 5-Year-Old Copying his Bowling Action, 'It's a Wonderful Feeling'. 
In the video, we see a kid dressed in a red t-shirt and nappies in a closed room with a bat in his hand. The kid is seen using the full face of the bat and has some lofty drives. The toddler who looks somewhere between the age group of four or five years old displayed great footwork and awed the netizens with his skills. The video was first shared by Fox Cricket, and then England's former cricketer Michael Vaughan further shared the same on his social media handle.
Surely he has an English cat or dog ... 😜 https://t.co/WtIvAXDrd5

— Michael Vaughan (@MichaelVaughan) November 11, 2019
Previously it was a kid who had enacted pacer Jasprit Bumrah's bowling action and the video was shared by the official account of International Cricket Council. Even the Indian pacer had responded to the video and shared words of encouragement for the budding cricketer. For now, we are waiting for Sachin Tendulkar and many other stalwarts of cricket to respond to this clip.