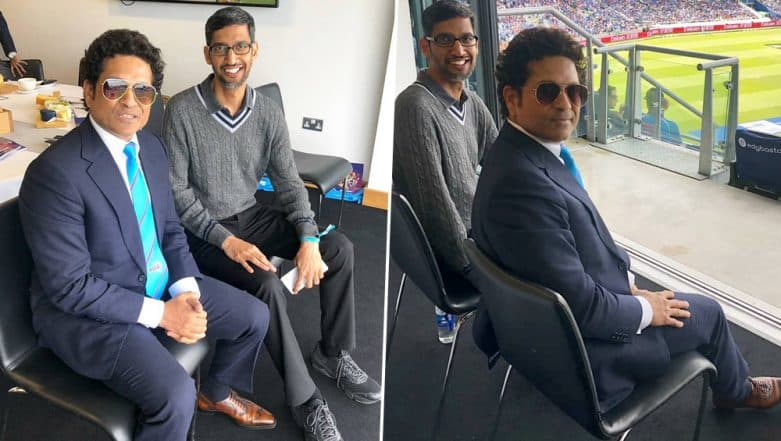 Sundar Pichai, Google CEO, had a fanboy moment when he met Sachin Tendulkar during the India vs England game at Edgbaston on June 30. Although India went on to lose, the game was memorable for the Chennai-born technocrat Pichai. Sachin later uploaded the picture on his social media handle and asked fans if the picture was "sundar." Fans, however, came up with hilarious reactions to the question. Sachin Tendulkar Backs Under-Fire MS Dhoni, Says 'For Him, It's More About The Team.'
Pichai took some-time off from his busy schedule to come and watch the IND vs ENG game in Birmingham. But, he certainly had a little more fun than just enjoying the match. The Google head spent considerable time with Sachin when the former cricketer was free from his commentary duties.
The two seemed to have enjoyed each other's company. Fans though were excited to know what these two men - best in their respective fields - were discussing. The photograph, which soon went viral, however, suggested that something important was cooking between both these legends. Here's how netizens reacted to Sachin's cheeky question:
Check Out the funny Reactions Here:
View this post on Instagram
Sachin also uploaded the same picture on his official Twitter handle asking fans the same question and received some lovely comments in reply.
Here is the Picture:
Kya yeh Sundar pic-hai? 😀 pic.twitter.com/vEuZKJlu6r

— Sachin Tendulkar (@sachin_rt) July 3, 2019
Sundar Hain!!
Sachin kitna sundar hai. pic.twitter.com/yipMRxB7Vr

— Pranjul Sharma (@Pranjultweet) July 3, 2019
Well Somewhere Between Pic & Pitch?
Ye to 'Sach' me "sunder" "pich" hai.

— Niharika (@bumbling_laugh) July 3, 2019
Find God??
When you ask "Ok Google, Who's God ?" ...

Google sends out its CEO to answer it himself. pic.twitter.com/JTbNuMmHO5

— Yo Yo Funny Singh (@moronhumor) June 30, 2019
In the End Google Wins
Fan Moment For @sundarpichai 😍

Google CEO with most googled person 🙏

PROUD INDIANS ❤ pic.twitter.com/b52ex3N23b

— Sachin Tendulkar🇮🇳FC (@CrickeTendulkar) July 3, 2019
Earlier, BCCI had also posted the picture on June 30 (Sunday) during the IND vs ENG game which excited the fans. Many were over the moon on seeing these two legends come together and responded with some hilarious comments.