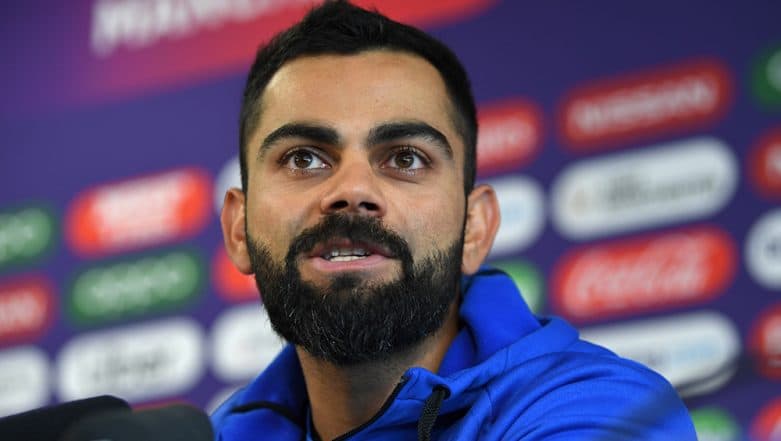 Virat Kohli categorically rejected reports of rifts between him and Rohit Sharma during the press conference ahead of India's tour of West Indies 2019. Calling the reports as baffling and ridiculous, the Indian skipper said, "In my opinion, it's baffling and ridiculous to read such stuff. Public talks about how well we've played, and here we're feeding lies and talking about negative things. And I've seen this being brought up for far too long now. It's bizarre how people are creating these things", Kohli said during the press conference which was held at a Mumbai Hotel before Team India's departure to West Indies and United States. Sunil Gavaskar Questions Virat Kohli's Position As Team India Captain Post World Cup Debacle.
He also said that people can see in his face if he is insecure about a person. "If I am insecure about a person, you will see it in my face. I have always praised Rohit, because he is that good. We have had no issues", the Indian skipper further added. Below is a video clip from the Press Conference.
Virat clears the confusion! 
Kohli also said that he has no idea who is creating such rumours. Stressing that Indian team is working to bring cricket up, he said, "You enter the dressing room and witness for yourself the kind of healthy atmosphere that's there. The lies are made to look believable. We are living and breathing in getting Team India to the top, and here some people are doing there best to bring us down. The friendship and camaraderie is there for everyone to see." Virat Kohli-Rohit Sharma Captaincy Rift: India Player Refused to Post 'All's Well' Message Reports. 
Kohli also batted for keeping Ravi Shashtri as coach of the Indian team. He said that he shares a great repo with Shastri and will be happy if he continues as Team India's Head coach. "The CAC hasn't contacted me yet. If they want my opinion, I'll go and speak to them. With Ravi Bhai, we share a great camaraderie, and will definitely be very happy if he continues. But I haven't been contacted so far," the 30-year-old cricketer said.
Meanwhile, India team is scheduled to play a full-fledged tour against West Indies comprising of three T20s, three ODIs and two Tests. The first T20 will be played at Central Broward Regional Park Stadium Turf Ground in Florida. The three-match T20 series will be followed by ODI series. Post that, Test series will start on August 22, 2019 at Sir Vivian Richards Stadium in Antigua.