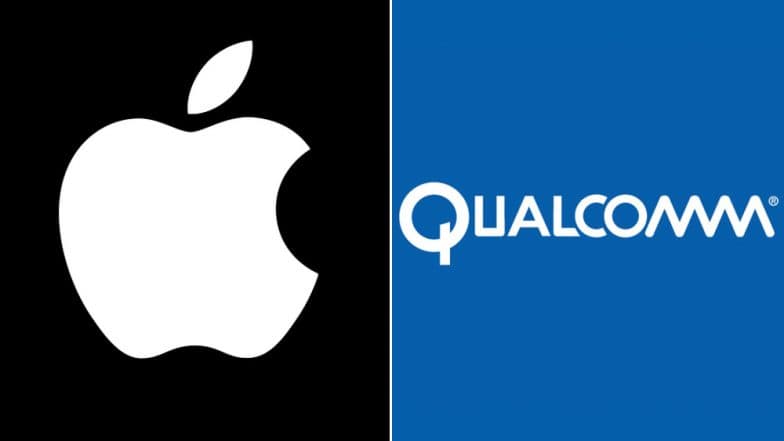 San Francisco, March 16: A US jury has decided that Apple needs to pay chip-maker Qualcomm $31 million for violating three of its patents. According to a report in CNET on Friday, the jury in San Diego, California awarded Qualcomm full amount it had requested at the start of the two-week trial. One Qualcomm patent allows a smartphone to quickly connect to the Internet once the device is turned on. 2018 iPhone XS, iPhone XR Were Rejected By Qualcomm For Modems Says Apple.
Another one deals with graphics processing and battery life, while the third lets apps on smartphone download data more easily. "Apple violated three Qualcomm patents and should pay the chip-maker $31 million for infringing on its technology," the jury decided.
The verdict sets the stage for a bigger trial in April between the two companies next month in San Diego. The dispute over Qualcomm's patent royalties with Apple involves billions of dollars. Apple iPhone 8, iPhone 7 Sales Banned in Germany; Court Grants Injunction To Qualcomm in Patent Infringement Against Apple.
"Today's unanimous jury verdict is the latest victory in our worldwide patent litigation directed at holding Apple accountable for using our valuable technologies without paying for them," Qualcomm General Counsel Don Rosenberg said in a statement. Apple iPhone XS, iPhone XR Sales Could Be Banned in China, As Qualcomm Urges Chinese Courts to Act on Patent Violation.
Apple said it was "disappointed". "Qualcomm's ongoing campaign of patent infringement claims is nothing more than an attempt to distract from the larger issues they face with investigations into their business practices in US federal court, and around the world," an Apple spokesperson was quoted as saying. The trial next month will also examine Qualcomm's licensing business. The two companies have been entangled in legal battles for years.