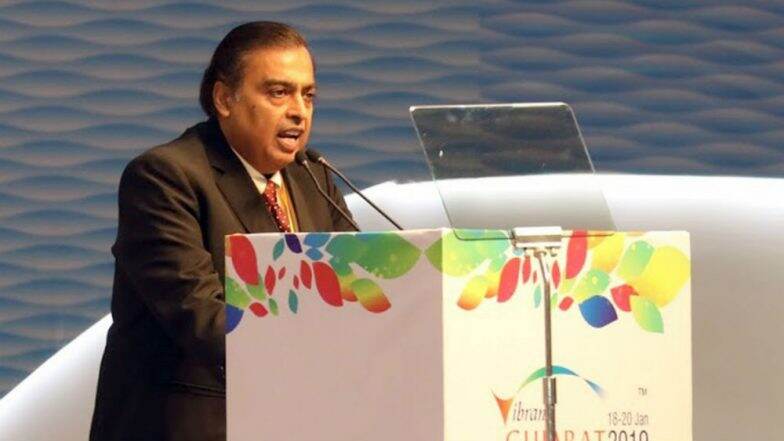 New Delhi, January 18: In a bid to take on leading e-commerce platforms Walmart-owned Flipkart and American multinational Amazon, Mukesh Ambani's Reliance Industries (RIL) will soon launch its online shopping service in India. Speaking at an event on Friday, Mukesh Ambani announced to launch a new offline-to-online commerce platform to connect small retailers and shopkeepers with customers.
Without giving timelines, Mukesh Ambani, Asia's richest man, said Jio and Reliance Retail, which has over 9,000 stores across the country, will launch "a unique new commerce platform to empower and enrich our 12 lakh small retailers and shopkeepers in Gujarat – which are part of over 3 crore community in India." He was speaking at the 9th Vibrant Gujarat Global Summit. Reliance to Invest Rs 3 Lakh Crore in Gujarat in Next 10 Years: Mukesh Ambani.
Ambani had previously spoken of leveraging the Jio network for launching some sort of e-commerce venture. According to a report, trials of the company's new initiatives are underway in six cities including Mumbai, Kolkata, Chennai and Bengaluru. Jio currently has 280 million telecom subscribers, while Reliance Retail runs nearly 10,000 outlets across more than 6,500 Indian cities and towns. Adani Announces Rs 55,000 Crore Investment in Gujarat in Next 5 Years.
Notably, last month, the government tightened rules related to foreign direct investment (FDI) in e-commerce. As per the new norms, online marketplaces like Flipkart and Amazon have been barred from selling products of companies where they hold stakes and the government has also banned exclusive marketing arrangements that could influence product prices.