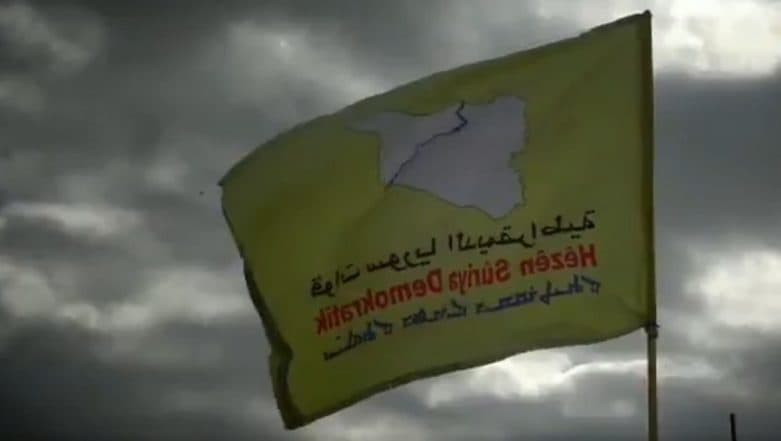 Toronto, February 11: US-backed Kurdish forces are facing fierce resistance from Islamic State fighters who are holed up in just two villages in Syria's eastern province of Deir ez-Zor. The offensive against the last bastion of Islamic State began on Saturday with Syrian Democratic Forces (SDF) setting siege to the two villages that shelter the hardened terrorist group's fighters.
"The decisive battle began tonight to finish what remains of Daesh terrorists," SDF spokesman Mustefa Bali said, using the Arabic name for Islamic State. "The battle is very fierce," he later told the Associated Press. "Those remaining inside are the most experienced who are defending their last stronghold. According to this you can imagine the ferocity and size of the fighting."
The offensive against the Islamic State fighters hide-out began after thousands of civilians were asked to evacuate. The evacuees included families of Islamic State fighters who have appealed for amnesty.
#SDF have advanced on northern and western axis into Baghuz since 19:00 yesterday evening, capturing 41 positions of ISIS and destroying fortifications. IS counterattack was foiled at 4 am this morning. Heavy fighting is going on inside the last village at the moment.

— Mustafa Bali (@mustefabali) February 10, 2019
After saving more than 20K civilians from IS-held area and ensuring their safety in nearby camps, #SDF started to move on to the last village remaining under jihadists' control in N. Syria. Village of Baghuz, which is the only remaining #ISIS pocket, will be cleared soon.

— Mustafa Bali (@mustefabali) February 9, 2019
The offensive began with US-led coalition airstrikes targeting the western part of Baghouz Al-Fawqani – one of the two villages still under the control of Islamic State fighters. The fighters are now concentrated in a four square kilometre area; the territory is just 1% of its caliphate that once was spread across large swathes of Syria and Iraq.  Read: US to Pull Out Troops From Syria, Donald Trump Declares Victory Over ISIS
At least 500 ISIS fighters are believed to be in the village, estimated to be a concentration of Islamic State's most experienced and battle-hardened fighters and commanders. The fighters have reportedly buried beneath the town, creating a network of tunnels that allows them to fight and run with ease. A similar strategy was deployed by the Islamic State fighters in the city of Mosul which saw one of the fiercest fighting in the country before its fall to the SDF. Read: Trump Admits US Troop Pull-out Could Cause a Resurgence of ISIS in Syria
Despite the defeat of Islamic State from most of its earlier held positions, it continues to earn revenue and support from across the globe. According to a report by the International Centre for the Study of Radicalisation and Political Violence (ICSR) at King's College London, foreign fighters continue to arrive in Syria, undeterred to join the Islamic State, at an average of 50 per month.