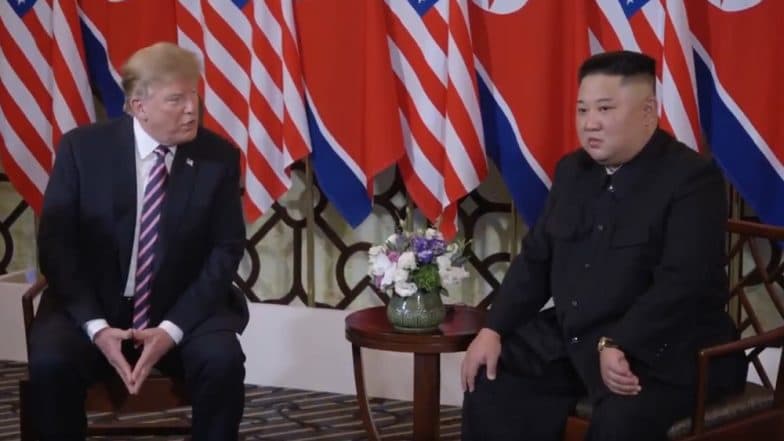 Toronto, February 28: US President Donald Trump and North Korea's leader Kim Jong-Un started off the second summit in Hanoi, Vietnam with a genial handshake and grandiose compliments.
Trump said he looked forward to a "very successful" summit to which Kim responded with "we have been able to overcome all the obstacles and here we are today." In response, Trump said "it's an honor to be with Chairman Kim, it's an honor to be together in Vietnam." "It's great to be with you, we had a very successful first summit," he added. "Some people wanted to see it go quicker, but I was very happy with how we are doing."
The duo then sat down for a chat before they headed for their dinner meet. During this talk Trump seemed to entice Kim with a "tremendous future for your country," if the North Korean leader agreed to give up his nuclear arsenal and open up the country. "I think you will have a tremendous future for your country, you're a great leader," Trump told Kim. "We will help it to (make it) happen."
— The White House (@WhiteHouse) February 27, 2019
Kim later thanked Trump for the summit in Hanoi and praising the US President for "courageous political decision." Kim said the "outside world" has "misunderstood" the US-North Korean relationship in the period after the Singapore summit. He said he is hoping the Hanoi summit delivers "an outcome welcome by everyone."
The duo then moved on to the dinner table at which they were accompanied by US Secretary of State Mike Pompeo, acting chief of staff Mick Mulvaney along with Kim Yong Chol, vice chairman of the Central Committee of the Workers' Party of Korea, and Ri Yong Ho, the minister of foreign affairs, joined Kim.
The leaders then further spoke over a dinner of shrimp cocktail, grilled sirloin and chocolate lava cake. However, reporters were given limited access during this session. White House Press Secretary Sarah Sanders said "due to the sensitive nature of the meetings we have limited the pool for the dinner to a smaller group."
However, post the dinner which lasted for an hour and forty minutes, "Great meetings and dinner tonight in Vietnam with Kim Jong Un of North Korea," tweeted Trump. "Very good dialogue."
The duo will meet for marathon sessions on Thursday as Trump tries again to get North Korea to denuclearise while Kim Jong-un would like some relief from the economic sanctions. Just days ahead of the summit, Trump Administration officials acknowledged they were still working to come to a "shared" understanding on the matter. It remains to be seen if the two sides manage to come to an agreement on what 'complete denuclearisation' would mean for North Korea and how to get there.