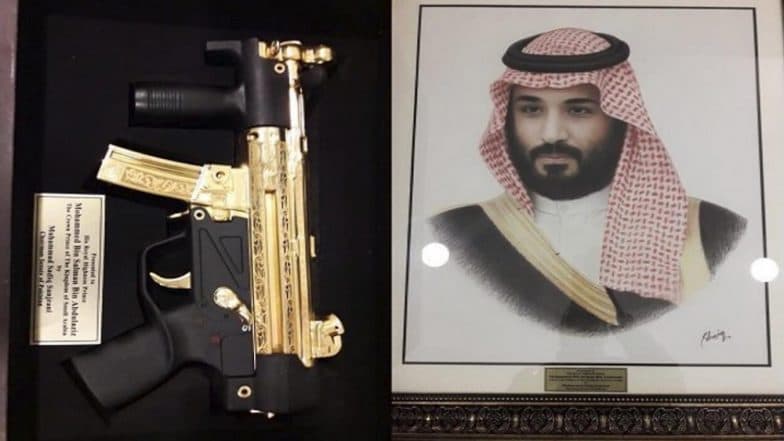 Toronto, February 21: Saudi Arabia's Crown Prince Mohammed bin Salman's visit to Islamabad was notable for many reasons. To count a few, he dropped a few billion dollars in terms of investment -- $20 billion to be exact, handed over another cheque of $6 billion as loan, was in turn personally driven around by the country's prime minister, given a fighter jet escort, a 21-gun salute, a guard of honour reception and to cap it all awarded the Nishan-e-Pakistan which is the country's highest civilian honour.
Among these grand gestures, a gift by Pakistani senators to the Saudi Crown Prince was left ignored. It has now come to light that members of Pakistan's Senate and National Assembly on Monday gifted Saudi Crown Prince Mohammad bin Salman a gold-plated Heckler & Koch MP5K submachine gun. This submachine gun has been developed by German engineers, and the weapon was modified to incorporate an elaborate pattern engraved on its gold-plated components. The gun's magazine and nozzle are gold-plated with elaborate filigree like motifs engraved on it.
The gift, presented by Senate chairman Sadiq Sanjrani along with a small delegation, who called upon the Saudi Crown Prince on the second day of his visit. The senators also gifted the Saudi royal a likeness of himself along with the gold-plated gun.
The 33-year old Saudi Crown Prince's visit to Pakistan comes at a highly fortuitous time for the South Asian country as the Imran Khan government is faced with massive fiscal and economic challenges. Pakistan's foreign reserves have been almost exhausted and the country has multiple loan payments due this year. Pakistan's manufacturing and export sectors are highly underdeveloped and not many countries are willing to invest in a country that faces problems of home-grown terrorist groups, a shadow government run by the military and a history of coups against democratically elected politicians.