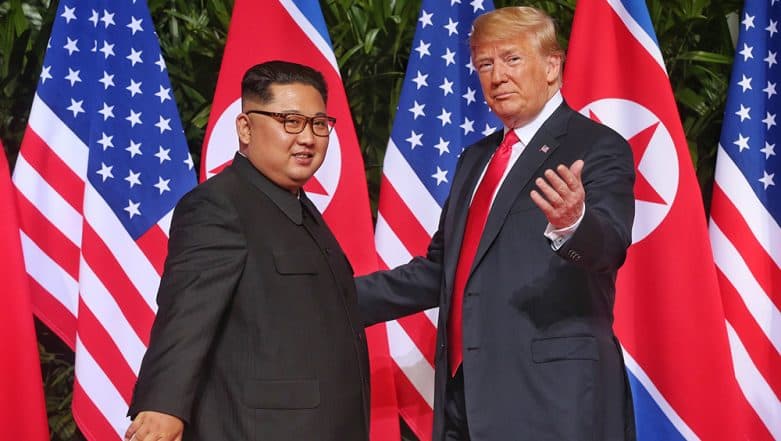 Toronto, February 27: US President Donald Trump and North Korea's leader Kim Jong-Un have reached Hanoi, Vietnam for the second summit scheduled between the two leaders to take place over the next two days.
Trump and Kim are scheduled to meet for a brief one-on-one conversation on Wednesday evening followed by a dinner together with their advisers, according to White House spokeswoman Sarah Sanders. On Thursday, the leaders are scheduled to meet for a series of back-and-forth meetings.
This second summit comes just eight months after the historic Singapore summit which saw for the first time a US President meet with the leader of North Korea. Trump has often trumpeted this June summit as being responsible for negating the threat of a nuclear war between the two countries but this statement does not hold true on the ground.
US Secretary of State Mike Pompeo himself has contradicted Trump and so has a UN report. United Nations sanctions monitors say that North Korea has worked over the years to ensure that its nuclear arsenal cannot be destroyed by air strikes. The report said it "found evidence of a consistent trend on the part of the DPRK (Democratic Republic of North Korea) to disperse its assembly, storage and testing locations".
The US State department too has been unable to get North Korea to commit to a schedule of giving up its nuclear weapons which led Pompeo to cancelling a visit in November 2018. Experts believe that the two sides' interpretation of de-nuclearisation itself is yet to be agreed upon.
Hence the pressure is on the US President to get North Korea to commit to a verifiable de-nuclearisation programme. Trump ever since meeting Kim has touted his personal equation with the hermit nation's leader. He said on the eve of his visit to Hanoi "It's a very interesting thing to say, but I've developed a very, very good relationship," Trump told the U.S. state's governors on Sunday evening. "We'll see what that means. But he's never had a relationship with anybody from this country, and hasn't had lots of relationships anywhere."
Trump will now hope to deploy this personal equation to make good on the claim that he has disbanded the threat of a nuclear North Korea.