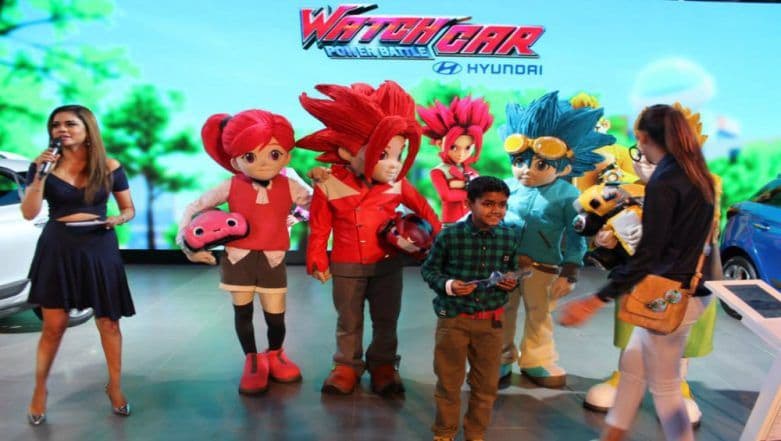 The Auto Expo 2018 has seen the launch of many fascinating cars and vehicles this year. From Sports Utility Vehicles (SUVs) to stylish sedans and humming hatchbacks, the expo has also had its share of electric cars which got the world of vehicles talking. But this year, the Auto Expo has also been making news about the various educational programs and informative sessions that have been held at the expo. On Sunday, 11 February, auto expo had arranged for a number of activities to attract the kids. Activities like video games and drawing competitions were held to engage students and kids in the expo. The Auto Expo understands that kids are the future and that it is best to impart them knowledge about safety on the roads through such initiatives where they will also get to see and know about their favorite vehicles. On Tuesday, one such educational session was held by auto expo for school kids and it was also tweeted about:
It is crucial that we teach children about the importance of #RoadSafety. Children will always be fascinated by big cars and bikes, and it is up to adults to ensure that this fascination is also teamed with learning. #AutoExpo2018 pic.twitter.com/89vIt2rxsN

— Auto Expo - 2018 (@AEMotorShow) February 13, 2018
The Auto Expo has also proved to be a paradise for performers. Various theatre groups have performed street plays on the theme of road safety and the importance of proper driving practices such as wearing helmet and avoiding rash driving. Gyan Mandir Public School performed a street play on road safety and organ donation on Monday, February 12. Considering the cases of road accidents taking place in Delhi and all over the country each year, such initiatives by cultural groups assume all the more meaning.
Gyan Mandir Public School, performing a street play on #RoadSafety and organ donation. They have been invited by @siamindia , one of the prestigious organizers of #AETMS18 to communicate these important messages in an engaging manner. pic.twitter.com/wPqviWqr5T

— Auto Expo - 2018 (@AEMotorShow) February 12, 2018
On Sunday, February 11, there was a splendid end to the busy and important weekend with an energetic dance performance at the anti-counterfeiting mood zone
What a splendid end to this power- packed weekend at #AETMS18. Energetic dance performances at the anti-counterfeiting mood zone. @siamindia pic.twitter.com/WSXa2rxP90

— Auto Expo - 2018 (@AEMotorShow) February 11, 2018
The Auto Expo 2018 has been at the forefront of spreading awareness about road safety measures. It is a welcome sign that the expo which introduces many glitzy and high-end vehicles is also making masses aware about importance of road safety through the same platform. According to a data released in December 2016 by Geneva based International Road Federation,  India accounts for highest number of road deaths in the world. This proves that India needs more of such educational initiatives on road safety measures.