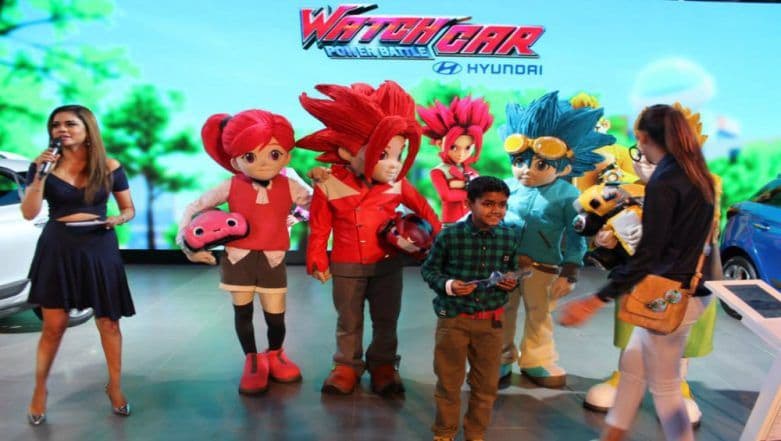 If you think that Auto Expo 2018 is all about vehicle launch and unveils, then you are in for a big surprise. With February 10 being a Saturday and a weekend, families along with young kids are queuing up to catch a glimpse of their favorite cars and much more. Kids also mean business as they play a large role in influencing which vehicle parents decide on buying and the Auto Expo organisers are well aware of it. Hence, Auto Expo is leaving no stone unturned to woo the young car-lovers.
For example, can anything be better than video games to attract children? Or why should only kids have all the fun? Even adults ( many so called) are not immune to the charms of video games. Keeping this in mind, Auto Expo 2018 has a dedicated section for gamers and future gaming concepts. Here's a peek into the fun activities that's happening at the Auto Expo 2018:
Want to export to the future? Then do not miss #AutoExpo Gaming Zone, Hall 12, especially curated for #tech enthusiasts to showcase the future of automobile industry via Virtual Reality! Come and experience the world of automobiles and technology. #AETMS18 pic.twitter.com/jkbIqBqBfi

— Auto Expo - 2018 (@AEMotorShow) February 10, 2018
In fact, hall no. 12 is today hosting some spectacular art work by young budding artists. These young motor enthusiasts have incorporated their love for vehicles in their art through crayons and merged their love of designing with automobiles, and the result is here for everybody to see:
#Kids are having a gala time at the biggest motor show #AETMS18. Don't forget to check out the special zone curated by @cartist123 who make a perfect blend of art and innovation at Hall No 12. #AutoExpo2018 pic.twitter.com/YBzFGCTdJh

— Auto Expo - 2018 (@AEMotorShow) February 10, 2018
The Auto Expo has also come up with the brilliant idea of invoking the cartists in these young enthusiasts by providing them with an opportunity to put their work on display in hall no. 12. And the kids are loving it as the below tweet suggests
#Checkout this beautiful blend of art and technology displayed in the special zone at hall 12. This display by #cartists is truly a sight to behold. Draw your own canvas & explore the cartist in you at #AETMS18 pic.twitter.com/5omDY0oDqD

— Auto Expo - 2018 (@AEMotorShow) February 9, 2018
The Auto Expo has no dearth of crowd pullers considering the high-tech vehicles on launch and display. But super cars have super heroes to accompany them here at the Expo too, check it out here
Not just super cars, but also super heroes! Spot them while you're at the biggest motor show #AETMS18 pic.twitter.com/0dbJrpPKpI

— Auto Expo - 2018 (@AEMotorShow) February 9, 2018
Then there are car quizzes and competition for the brainy! The Auto Expo wants the kids to wear their intelligence helmet and flaunt it by giving answers to questions that might give even adults a run for their money.
Starting young! This little star is doing great at quizzes. Lots of more fun activities for children here at the #AETMS18 pic.twitter.com/jZLAInozcV

— Auto Expo - 2018 (@AEMotorShow) February 9, 2018
The Auto Expo seems truly a place of delight for the young auto enthusiasts to spend their weekend at. There was also a play on road safety by a street theatre group. "Amongst the fun filled activities and extravagant display of cars, a group of activists did a small street play on road safety. It's important to be safe even if we are driving the best of cars!" tweeted Auto Expo 2018.