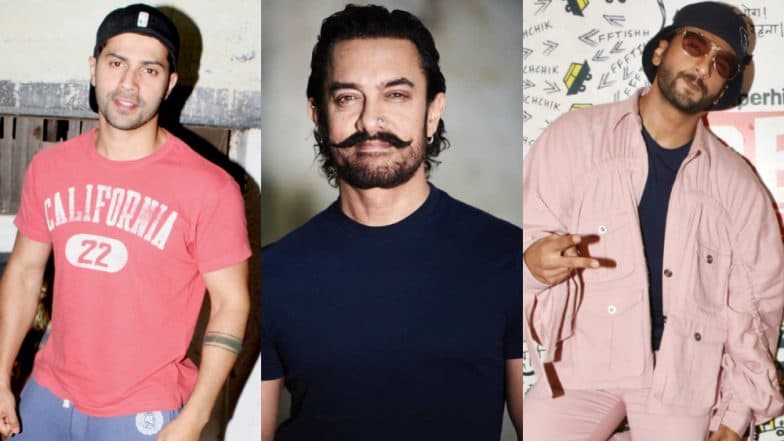 Andaaz Apna Apna has become a cult classic over the years. No wonder Bollywood is looking out to milk the popularity of the film with an upcoming reboot/sequel/spin-off. As per rumours, Varun Dhawan and Ranveer Singh are in the running to star in what is being dubbed as Andaaz Apna Apna 2 by the internet. The actors will be stepping into the shoes of Salman Khan and Aamir Khan who appeared in the original movie. While there has been no official word on the same, Aamir is just as excited as rest of the fans.
Aamir has expressed that he thinks Ranveer and Varun will make a good choice for this Andaaz Apna Apna reprise. Reacting to the rumours, that original producers Vinay Sinha and Priti Sinha are on a mission to relaunch the movie, Aamir told Hindustan Times that he'd "personally like to see a fresh take on it". Did Aamir Khan Just Confirm His Next, A Remake of Tom Hanks' Forrest Gump?
Adding that he doesn't know if the reports are true, he said, "As an audience, I'd love to see what Ranveer, Varun or any of the young actors bring in vis-à-vis the characters."
Watch Funny Scene of Aamir Khan from Andaaz Apna Apna Below:
Now we wonder what the rest of the cast including Salman, Raveena Tandon, Karisma Kapoor, Paresh Rawal and Shakti Kapoor think about the same. Will they all be on the same frequency as Aamir? Time will tell.
For now, hold your horses. Producer Sinha has actually said that no one has been approached for any such role. No Ranveer, no Varun has been cast off now. Maybe this fantasy league of Andaaz Apna Apna will remain a fantasy.