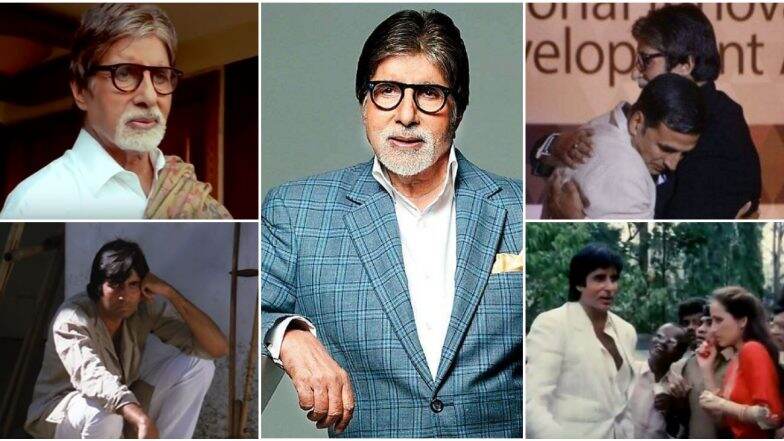 Amitabh Bachchan, the Indian Cinema Legend, is turning 77 on October 11, 2019. On behalf of LatestLY desk, we wish the icon Many Many Happy Returns of the Day. A little trivia here: did you know that Big B was first named as Inquilaab Srivastava? The superstar, who is the only actor who has ruled almost five decades on the marquee consistently, is also four-time National Award winner, as well as a Padma Shri, Padma Bhushan and a Padma Vibhushan. BTW, a Bharat Ratna is on the way. Amitabh Bachchan Birthday Special: How the Veteran Star's Second Innings in Bollywood is a Lesson For All Actors.
We have talked a lot of Amitabh Bachchan performances and movies, and yet we still have a lot of fascinating stuff to cover about this legend. In this special feature, let's talk about his cameos, which by the way, are way too many. So let's narrow down our search and talk about the memorable times the actor had played himself in a movie and surprised the hell out of us, with his sudden appearances. When Rekha and Amitabh Bachchan Came Together for These Shah Rukh Khan, Hrithik Roshan, Dhanush Movies and You Never Realised It!
Here are 10 times when Amitabh Bachchan stole the show as himself in a movie:
Guddi
Guddi, directed by Hrishikesh Mukherjee, came at a time when Amitabh Bachchan wasn't a superstar yet. It is a very small cameo and has Amitabh Bachchan in the middle of performing a scene.
What makes the scene so special is that it is for the first time that we get to see future life-partners, Amitabh and Jaya Bachchan in a movie, even though they get to share a scene together. In fact, they haven't even started dating each other when Guddi came out.
Gol Maal
We meet Amitabh Bachchan a couple of times in this another  Hrishikesh Mukherjee classic. The first time we see him is when the protagonist, played by Amol Palekar, see him during a shoot.
The second time is when Amol Palekar's character imagines himself to be a superstar in the "Sapne Mein Dekha Sapna" song. He becomes so popular in his dream that even Big B is rendered jobless. Fun fact - even Rekha has a cameo in the song.
Chashme Buddoor
This delightful Sai Paranjpe film (that was later given a horrendous remake treatment by David Dhawan) is a fun-filled buddy comedy, starring Farooque Shaikh, Dipti Naval, Rakesh Bedi and Ravi Baswani.
Amitabh Bachchan and Rekha appear as themselves in a fun scene that acts as a training moment for a character in how to woo a girl!
Jalwa
Naseeruddin Shah's action thriller is a cult classic about a young man looking to find out why his best friend has been killed.
Amitabh Bachchan appears in a comedy scene, involving Satish Kaushik. The latter, who plays a police constable, boasts about knowing Big B, and to his misfortune, the superstar intrudes right into the middle of his tall claims. The sequence is kind of inspired by a famous scene in Woody Allen's Annie Hall.
Hero Hiralal
A year, after the release of Jalwa, Amitabh Bachchan played himself in another Naseeruddin Shah-starrer.
This time, he had a more knight-in-shining armour kind of role, as he saves the female lead, who is an actress in the movie, from getting mobbed by some unruly fans.
Ghatak: Lethal
Amitabh Bachchan's cameo in this Rajkumar Santoshi actioner stands for the fervent dedication his fans for him as they stand tirelessly outside his bungalow in Mumbai.
Sunny Deol plays such a fan in the movie, who claims Big B is his bade bhaiyya because they belong to the same town. So he is happy when he gets to see Big B in flesh even if it is in the passing. Amitabh Bachchan also ends up giving a social message about how we should be united, irrespective of religion, caste and language. Going by certain accusations against the actor these days, the irony in the scene is amusing enough.
Ramji Londonwaley
R Madhavan stars in this underrated romcom about a Brahmin cook who gets stuck in London after his passport is stolen. He is also a huge admirer of Amitabh Bachchan in the film.
So imagine his surprise when after weeks of hardships and a cute little romance, Ramji returns to India and opens his own hotel, and it is Amitabh Bachchan himself who comes to inaugurate it. Interestingly, Kamal Haasan had done the same cameo in the original Tamil film, Nala Damayanthi, that also had R Madhavan in the lead role.
Bombay Talkies
If Ghatak gave a glimpse of the fan frenzy outside Amitabh Bachchan's house, then this segment from Bombay Talkies, directed by Anurag Kashyap, expands on this aspect in a heartwarming story.
The talented Viineet Kumar plays a young man from UP, who as per his father's dying wish, arrives in Mumbai with a bowl of murabba. He wants Amitabh Bachchan to have a bite of murabba, and after enough trials and tribulations, he even manages to meet Big B and get him to eat a piece. Only for the tale to have an unexpected sad twist, leading to a very whimsical conclusion.
Ki & Ka
R Balki's failry enjoyable romcom about gender reversal has Kareena Kapoor play a successful corporate woman and Arjun Kapoor as her happy house-husband.
This aspect of Arjun's character makes him so popular in the city that he gets invited to talk shows. And this little stint of his becomes a fun conversation at Jalsa, when Jaya Bachchan ribs her husband for not supporting her during her heydays as a lead actress!
Pad Man
R Balki makes sure Amitabh Bachchan appear in his movie, either in a fully-fledged role or in a cameo. The latter category includes the aforementioned Ki & Ka, as well as 2018's Pad Man.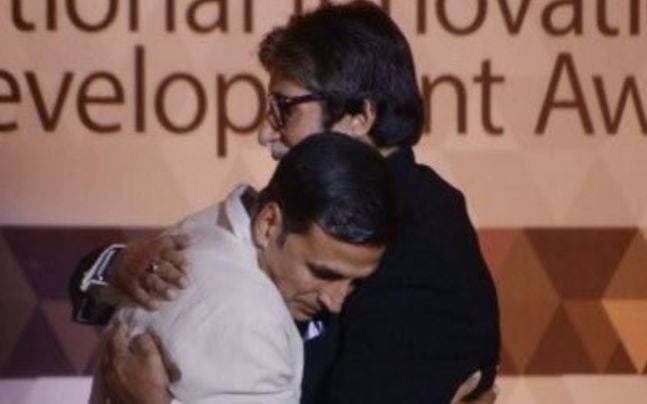 In Pad Man, Amitabh Bachchan arrives the guest of honour for the 'Life-Changing Innovation of the Year' ceremony.