Katrina Kaif and Arjun Kapoor's social media interactions are undoubtedly our best source of entertainment. We have seen the actor troll Kat on many occasions, be it on her pictures, outfits or captions, Arjun has the most hilarious comments. Recently, Katrina tried to do the same to Arjun but miserably failed and now it's Arjun's turn again. Katrina took to Instagram to post a messy picture of herself, where she is seen staring into the unknown with open hair ruffled up. Arjun Kapoor Captures Malaika Arora Swimming in a Pink Monokini During Their Vacay Abroad (Watch Video).
Katrina captioned this picture with a coffee cup emoji. While fans couldn't look beyond Katrina's beauty and didn't bother about her caption, it was Arjun who had to troll the actress as always. Commenting on the picture, he wrote, "The emoji has nothing to do with the picture Katrina... is that a clue for Karan to join u for Koffee on Takht ???" Arjun is known to be one of the wittiest Bollywood actors and with this comment, he had us laughing out loud. The actor smartly inserted Karan's upcoming film's title Takht instead of 'couch', while referring to Koffee With Karan.
Check Out Katrina's Insta Post Here:
View this post on Instagram
Interestingly, Takht is Karan Johar's upcoming multi-starrer featuring Alia Bhatt, Kareena Kapoor, Ranveer Singh, Anil Kapoor. Vicky Kaushal, Janhvi Kapoor and Bhumi Pednekar. It almost seemed like Kapoor made a sly remark at Kaif missing out on the opportunity to be a part of this biggie. Hrithik Roshan Calls Katrina Kaif a 'Mazdoor' Who Happens to Be Beautiful But There's a Reason for It!
Check Out Katrina Kaif's Instagram Post and Arjun's Comment Here: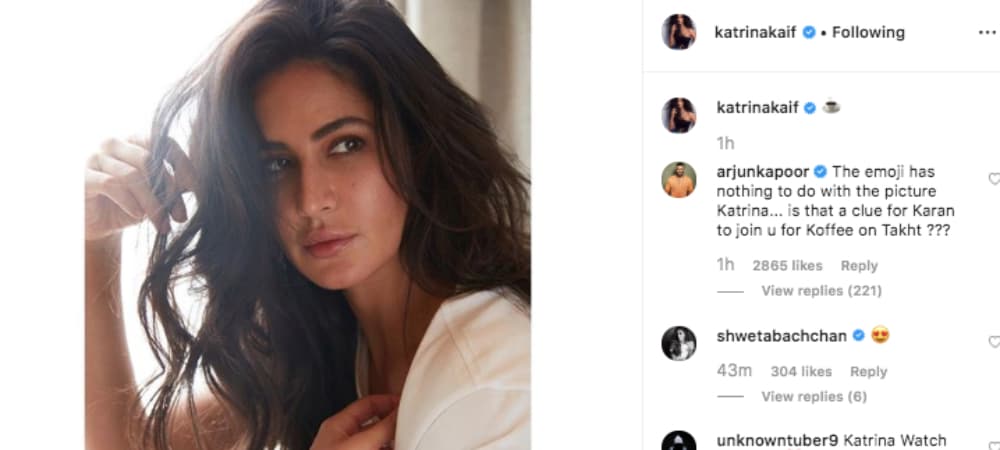 Earlier, Katrina tried to troll Arjun after she commented on his Instagram post about 5 years of Finding Fanny. The actress commented "Look at u" to which Kapoor then hilariously responded saying, "ummm that would be ideal.." Katrina is yet to respond to Arjun's "Takht" comment and we can't wait to see what it will be.