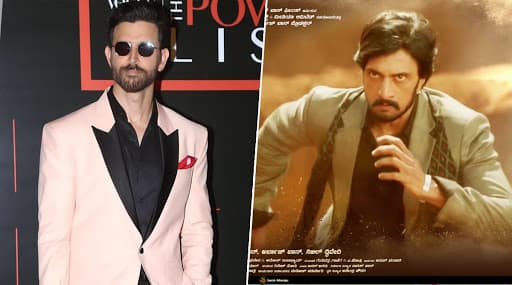 The year 2000 was important and instrumental in Bollywood in many ways. It was the beginning of the millennium and it also marked the beginning of the career of a man. We are talking about Hrithik Roshan and Kaho Naa...Pyaar Hai. This guy is tired of getting appreciations for his looks and extreme adoration for his acting skills. That film did many things to many people but to Kiccha Sudeep, it led him to hate Hrithik Roshan more than anyone else. Hrithik Roshan Named 'Sexiest Asian Man of the Decade', Beats Vivian Dsena and Shahid Kapoor
Sudeep, who plays the dishy villain in Salman Khan's Dabangg 3, was answering a few fan questions during an interview with Bollywood Hungama. Someone asked him if he gets an opportunity to work with Hrithik in an action film like War, would he like it. Sudeep reveals how not he but his wife will be the first one to land on the sets of the film because she is a huge Hrithik fan. He also mentions how he had to watch KNPH 10-11 times because of his wife who threatened him that if he doesn't tag along, she will watch it with someone else and that won't be a girl.
That's when Sudeep says that he admired Hrithik a lot when he watched the film for the first time and then never hated anyone more. Check out the video here...
"That the kind of a fan she (My wife) was to him (@iHrithik), she is still rather, so #KahoNaaPyaarHai has been a one page in my life, we have contributed a lot to the success…": @KicchaSudeep#TalkingFilms #YouTweetCelebsReply #BollywoodHungama

YT: https://t.co/tDJVScrwKP pic.twitter.com/KhPNDNegQ4

— Bollywood Hungama (@Bollyhungama) December 10, 2019
Can you blame him? Watching your girlfriend or wife crushing on another man is not an easy sight and Hrithik is to be blamed for that. Use koi haq nahi banta ki woh itna khubsurat dikhe!