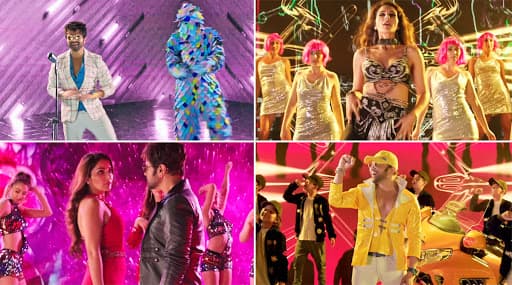 We won't be surprised if you haven't watched 36 China Town. It wasn't an epic any way. But we are pretty sure you must have heard Himesh Reshammiya croon Aa.. Aa... Aashiqui Mein Teri. The one on which Upen Patel danced like a dream? No? Well, this is a remix of the same song from that movie and it's funny, strange and chaotic. Happy Hardy and Heer: After Ranu Mondal, Himesh Reshammiya Records a New Song 'Tik Tok' With Kumar Sanu's Daughter Shannon K (Watch Video)
But what stood out as an important facet of this song was the cap. Himesh and his caps are synonymous, one can't be without the other. He even did an entire film wearing that in every scene. So that returns in yellow...he shows some chest, a girl is dancing and there is some person in weird getups who is making Reshmmiyan give weird expressions. As for the song, no upgrade here. In fact, it made us check out the original.
While we do that, you check out this song...
It is imperative that you let us know what you feel about this remix. We would also suggest you to check out the original which had some really good music and moves. We can discuss it after that. Oh by the way, did we tell you Happy Hardy And Heer is a movie where the lead is Himesh Reshammiya? Now we did.