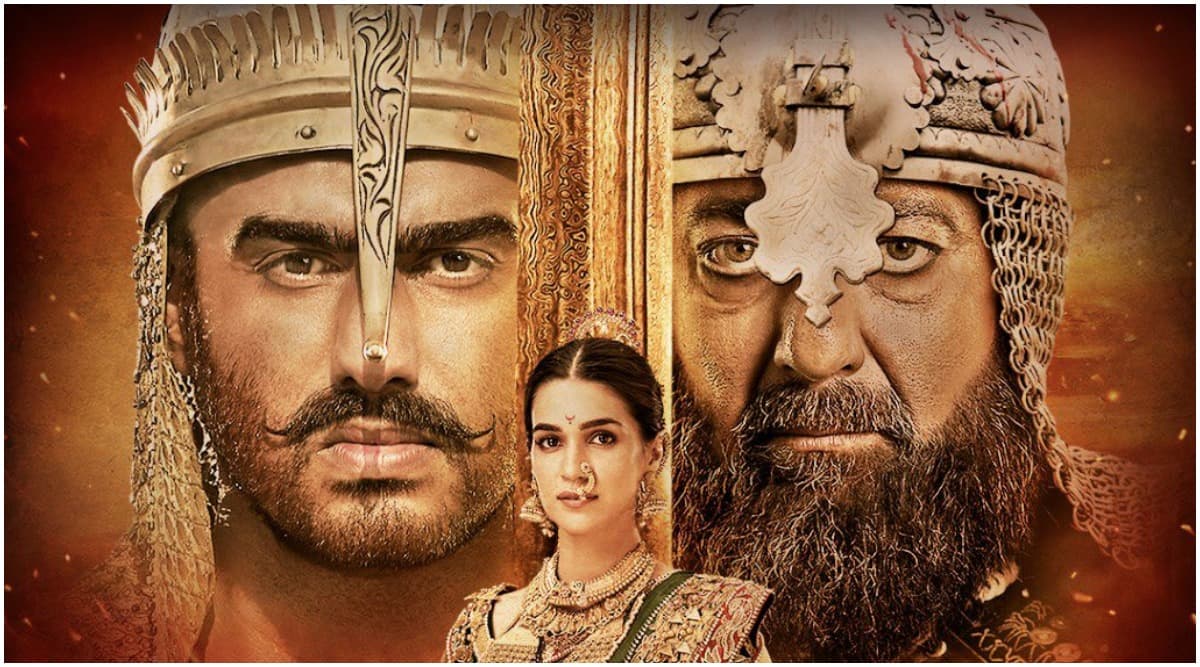 Arjun Kapoor is gearing up for his first historical saga with Ashutosh Gowariker's Panipat and going by its trailer, it seems to be a worthy watch. The movie will see Kapoor's Sadashiv Rao Bhau locking horns with Sanjay Dutt's Ahmad Shah Abdali in the third battle of Panipat that changed the course of Indian history ultimately. While we are clearly bowled over by its trailer and think Sanjay has outdone himself, Twitterati too is mighty impressed with the film's first few visuals.
From hailing Sanjay Dutt's menacing avatar to appreciating Kriti Sanon's innocence and Arjun Kapoor's ruggedness, Twitter users are going gaga over Ashutosh Gowariker's directorial and can't wait to watch it on the big screen. Well, it feels good to see Gowariker back in his elements and we blame him for making this short wait till December seems too long suddenly. Oh, and tweeple too have started the countdown for December 6 and it's evident in these tweets below. Panipat Trailer: Arjun Kapoor As Sadavshiv Rao Bhau and Sanjay Dutt As Ahmad Shah Abdali Take You an Epic War Journey Like Never Before (Watch Video).
Check out the Trailer First
  Sanjay Dutt Fans
Ashutosh Gowarikar is back after Mohenjo Daro and Panipat looks a convicting project. The most convincing thing is Sanjay Dutt as Ahmed Shah Abdali. Will give it a sure watch:) #PanipatTrailer

— CHARLIE (@CharlieGulshan) November 5, 2019
Some Love for Kriti Sanon
@kritisanon just watch Panipat Trailer you just fantastic as Parvati bai ....All the best 😊#PanipatTrailer

— Kuldeep Maru (@MaruKuldeep) November 5, 2019
Who Else Loves Ashutosh Gowariker?
Undoubtedly despite having a Mohenjodaro dud, this man is the best in making Historicals that are entertaining. He not only focuses on aesthetics, but also the E factor. @AshGowariker Good luck 🙏 You deserve it for giving us Lagaan, Swades and Jodha Akbar. #PanipatTrailer

— Anjali✨ (@Mystic_Riverr) November 5, 2019
This One's for the Trio
Trailer is fantastic..@duttsanjay is 🔥🔥@arjunk26 is good too as his first historic role.. And

Love the way @kritisanon is fighting with the sword.. ❤🔥.. she is always perfect in every role.. 💖💖

#PanipatTrailer #SanjayDutt #KritiSanon #ArjunKapoor #Panipat pic.twitter.com/IWyiNM965q

— Himansh (@Hemuzz8) November 5, 2019
Panipat Gets One Vote Against Pati Patni aur Woh
Would pick this one anyday in the clash, haven't seen much of Dutt growing up, but am looking forward to his work, he is pretty impressive in the trailer 🔥Kriti is sheer brilliance, Arjun in the last scene 🔥🔥#PanipatTrailer

— Bhavya 🕉 | FINE LINE (@sm_bhavya) November 5, 2019
Yes, Eagerly Waiting For Songs
#PanipatTrailer@arjunk26 @kritisanon

👌👌👌👌👌👌👌

Now waiting songs and movies

दिल्लीच्या रक्षणासाठी मराठा सैन्य

— Mahesh Kharabe patil (@MaheshKharabe) November 5, 2019
Kriti Sanon on a Roll
Brilliant performance Kriti !! Nailed it 😍#PanipatTrailer

— Jay Mehta (@iJayHR) November 5, 2019
We have some high hopes pinned on the depiction of this battle that was fought between the Maratha Empire and the Durrani Empire in 1761. The movie looks as grand as the director's previous outing, Jodha Akbar and hopefully, it will taste the same success. Fingers crossed.