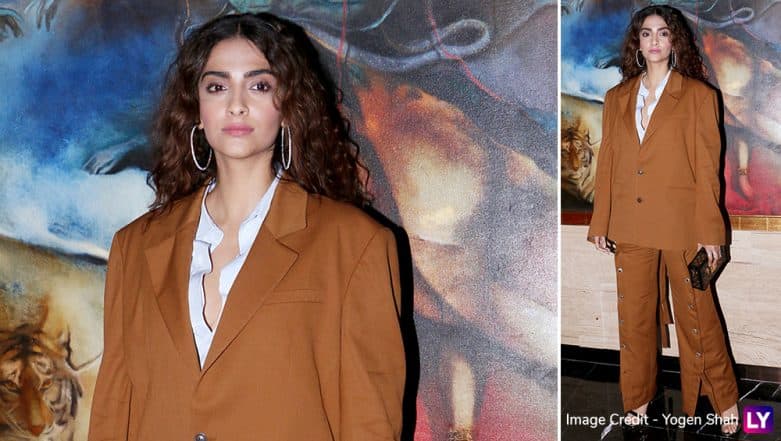 Thanks to Kangana Ranaut for making us aware of the existence of a word called 'nepotism'. Honestly, we had no idea about its definition until she pointed it out to all of us. You can blame Karan Johar for pushing the industry's kids or launching them without any qualms but he agrees nepotism exists in the Bollywood industry. While some people believe it's unjust and unfair, others think there's no harm in carrying forward a legacy. Sonam Kapoor, however, has a valid point and that revolves around the basic definition of the 'N' word. Did the Nepotism Debate End? Karan Johar Is Willing to Direct Kangana Ranaut – Read Details.
Sonam was recently a guest on Arbaaz Khan's new talk show, Pinch and she was asked to answer a troll who believes she's a pathetic actress and just another product of nepotism. The Neerja actress did respond to his query by saying, "I have been in the industry for 11 years. Thank you for following me and knowing how long I have been there. I want to explain what nepotism really means. Everybody thinks that it's a relative of a person. Nepotism actually means to get a job through any connection. I think people have misunderstood it or are using the word for their own benefit, to put other people down." Vidyut Jammwal Talks About Junglee, Nepotism, and Saving His Heroine from an Elephant.
Going ahead, she also elaborated on how she'd be disrespecting her father if she doesn't take its advantage. "My father didn't come from an illustrious family. He has worked in the industry for 40 years and he has worked really hard only for his children and if I don't take advantage of his hard work, which he has done for us, I think that will be a little disrespectful towards his work because every man or a woman, a mother or a father works for their children," she said.
Well, we wonder if Kangana Ranaut has anything to say about this. Do you think Sonam's comment will ignite another war of words in the industry? Will wait for time to answer that.