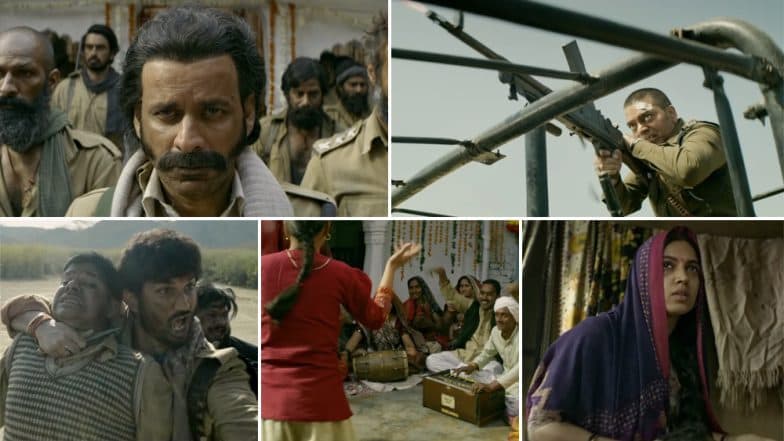 In a special event held in Mumbai, the makers of the upcoming Sonchiriya revealed the new promo of the film. Sonchiriya brings the dacoit saga back to Bollywood and looks to be a standout fare, away from the masala entertainers and nationalist films that we get to watch these days. The film stars Sushant Singh Rajput and Bhumi Pednekar in the lead, with Manoj Bajpayee, Ranvir Shorey and Ashutosh Rana in important roles. Sushant Singh Rajput's Sonchiriya Gets Delayed; Will Now Clash With Ex-Girlfriend, Kriti Sanon's Luka Chuppi on March 1, 2019.
Sonchiriya is directed by Abhishek Chaubey. If you are aware of Abhishek's filmography like the Ishqiya series and Usta Punjab, you know that the film-maker loves to mix grittiness with black humour. This is pretty evident in the new promo called 'The Rebels of Sonchirya'. The opening sequence has the dacoits rob a family where a wedding is happening. Once the loot is packed up, the sardar, played by Manoj Bajpayee, asks one of his cronies to leave Rs 101 as a wedding gift! Sonchiriya Trailer: Sushant Singh Rajput, Bhumi Pednekar, Manoj Bajpayee and Ranvir Shorey's Edgy Dacoit Drama Will Have You Hooked.
The promo then introduces us to the main players in Lakhna (Sushant Singh Rajput), Man Singh (Bajpayee), Vakil Singh (Ranvir Shorey), Indumati (Bhumi Pednekar) and finally, the cop Gujjar (Ashutosh Rana). The trailer establishes that Lakhna is a baaghi within the baaghis, the local terms for dacoits.
Check out The Rebels of Sonchiriya promo here:
The trailer also has a few strong cusswords. When producer Ronnie Screwvala was asked about this during the trailer launch, he said, "This film is censored. Let's not look for a controversy here." Sonchiriya will release on March 1.