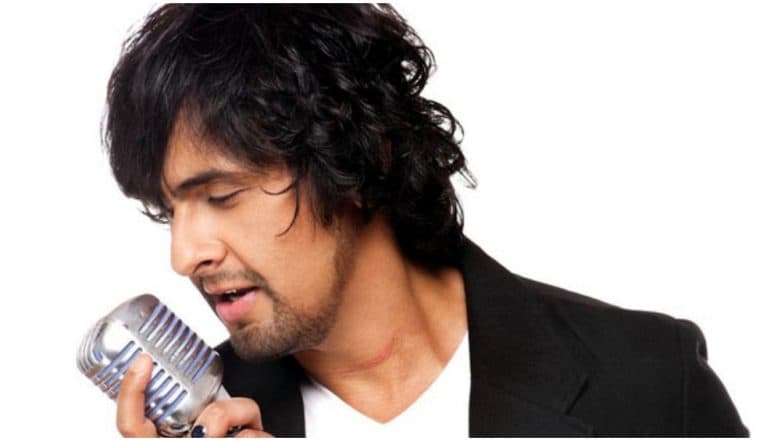 As Sonu Nigam celebrates his 45th birthday, we have only one request from this amazing singer - please sing more often in Bollywood. For the industry really needs more of Nigam in the times of Selfish and Selfie Song. Like someone had once said, many of the current chartbusters might work for a few weeks, but tracks sung by Sonu Nigam can span decades.
Sonu Nigam was born in a music-loving family, with his father, Agam Kumar Agam, being a very popular stage singer. Sonu actually began singing at the age of just four. He began his Bollywood career at the age of 18, however, the movie for which he first crooned for, Janam, never released. But that was just a minor setback for Sonu Nigam, as he carved an illustrious career in the industry, belting one chartbuster after another, doing fast-paced songs with softer dexterity. Some of his best tracks include Yeh Dil Deewana (Pardes), Sandese Aate Hai (Border), Sarfaroshi Ki Tamanna (The Legend of Bhagat Singh), Satrangi Re (Dil Se) and so one. Sonu was also one of the icons of the Indipop that was quite popular in the '90s, with albums like Deewana and Kismat ruling the charts. He has also composed music, and also tried (and failed) his hand at acting.
But with the advent of all the daaru-desi songs that began to conquer Bollywood music, Sonu Nigam has been distancing himself from the industry. Nowadays, we get to hear very less from the singer, though we did hear him in 102 Not Out and Sanju.
So, on the occasion of his birthday, we dig out seven of his rare, less heard gems that need to be dusted and heard by the generation just for the sake of good music!
Hawa Sun Hawa
Movie: Ada - A Way of Life
You might not have heard of this movie, as its release went under the radar. Which is really bad, since Ada features one of AR Rahman's best soundtracks. Hawa Sun Hawa, sung by Nigam and Alka Yagnik (another veteran singer who should sing more these days), is the best track in the album and a perfect romantic track.
Nazarein Mil Jaata Hai
Movie: Pyaar Kiya Nahin Jaata
At least Ada managed to release. Which we cannot about this Sonali Bendre-starrer, which laid in the cans for years till it came unannounced on television. But the movie boasts of a beautiful romantic song, crooned by KS Chithra and Sonu Nigam. Do listen!
Do Kadam Aur Sahi 
Movie: Meenaxi - A Tale of Three Cities
Meenaxi may be considered as one of AR Rahman's finest works, thanks to the presence of wonderful songs like Yeh Rishta Kya Kehlata and Chinamma Chilkamma. For some reason, this  Sonu Nigam track never gets much of a mention, despite the lovely tune and the singer at his mellifluous best.
Zaalima
Movie: Jal
Even though this movie impressed in the international film circuit, Purab Kohli's Jal failed to make much of an impression in India when it released in 2014. Jal has a great track in the energetic Zaalima, that Sonu Nigam himself has composed along with Bickram Ghosh, and features some good use of percussions.
Kitni Narmi Se
Movie: Dil Jo Bhi Kahey
Despite the presence of Amitabh Bachchan, this star-kid launch vehicle (producer-director Romesh Sharma's son Karan) failed to impress at the box office. The movie, however, boasts of some good songs, courtesy Shankar-Ehsaan-Loy, including this romantic track by Sonu Nigam. A little trivia - the gori mem in the song is Annabelle Wallis, known for being the female lead in Tom Cruise's The Mummy and as well as being the lead in the 2014 film Annabelle.
Soona Soona
Album: Classically Mild
Want to find out more about Sonu Nigam's strong hold on classical strains? Then look further than this track that recreates Radha's longing for Lord Krishna in a contemporary way, with a blend of traditional, jazz and pop beats.
O Saathi Mere
Movie: Tanu Weds Manu Returns
This might be the most popular movie in the entire list here, but have you heard this sublimely melodious song? No, right? This is due to the fact that the song, composed by Krsna Solo and with some wonderful lyrics from Raj Shekhar, didn't appear in the film. Really, why have such a gem composed only for fewer people to hear of it? Not fair!
On behalf of the entire LatestLY desk, I wish the supremely gifted and versatile Sonu Nigam, blessed with eternal boyish charm, Many Many Happy Returns of the Day!