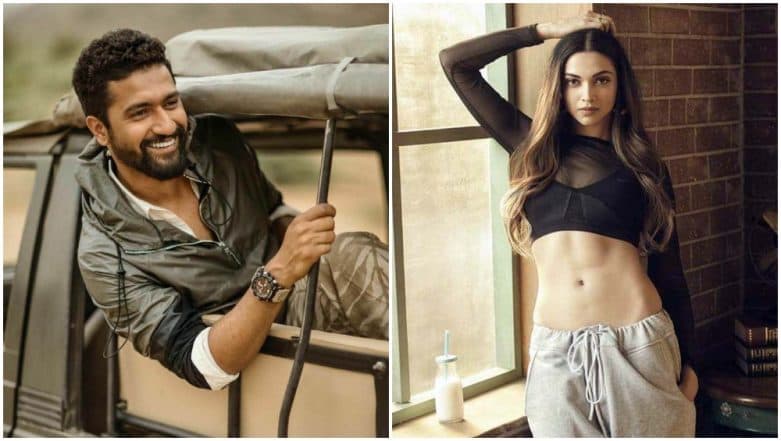 Remember the time when Deepika Padukone made headlines for refusing to romance Vicky Kaushal in Padmaavat? The Manmarziyaan actor was earlier approached to play Shahid Kapoor's role in this historical drama. But thanks to Deepika, he couldn't come on board. As per initial reports, the script of this period film, Padmavaat, demanded some intense romantic and lovemaking scenes with her husband and Deepika was keen on having a big star as her hero. When Vicky's name was suggested to her, she put her foot down and that's when Shahid came on board. Deepika Padukone and Vicky Kaushal's This Viral Video Is Making Us Say 'Someone Please Cast Them Together'.
However, that was the thing of the past. The actress today is all okay to share the screen space with Vicky. The recent ad commercial featuring Vicky and Deepika for Goibibo that also bears resemblance to Virat and Anushka's Manyavar Mohey sees the duo as strangers who meet at a wedding and discuss the probable staying options for him. We wonder if Vicky's recent success with movies like Raazi, Sanju, and Manmarziyaan helped DP change her decision and be willing enough to star in a commercial with him. And you never know if this provokes the filmmakers to even cast them together for a movie. This time we bet she won't have any problem. Arjun Kapoor and Vicky Kaushal Lash Out the Man Who Wished to Beat Taapsee Pannu.
Though the stories about Deepika not willing to share the screen space with Vicky may be rumours, the fact that he was approached for the project stays true. In his conversation with BollywoodLife, the actor had revealed that he was offered the role but things didn't work out. When asked to divulge details about it, he said, "We were in talks, but then certain things fall in place, certain things don't fall in place. For me, you need to try and understand, my first film came out in 2015, a small, humble film like Masaan. And if because of that one film, a director like Sanjay Leela Bhansali calls you to his office and tells you that you are a contender for a part in his next, that in itself means a huge deal for me. There I have got the film, I have lived the character, I got everything with that one call. This is not the end of the world. We'll keep working."