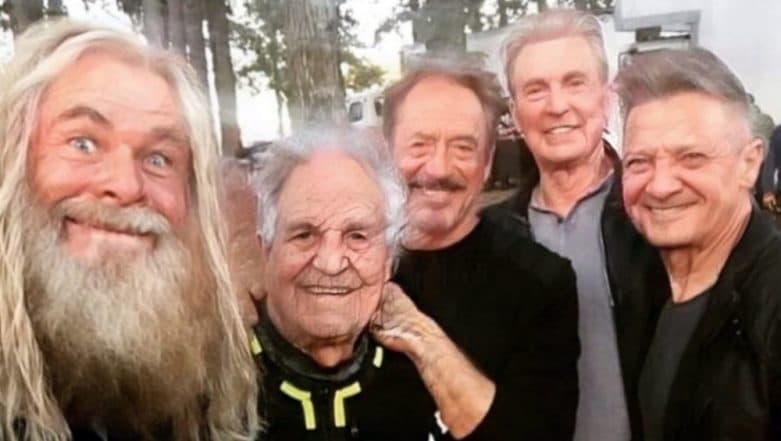 Unless you are living under a giant rock, you would know about the FaceApp old age filter that's currently taking the internet by storm. The idea is pretty simple where you upload your picture to realise how you will look in the distant future. Will you age gracefully or your wrinkled skin will leave you scarred for life? That's the answer you can get by installing the app of course. Until then, have a look at how our beloved celebs will look in their 80s or 90s. Deepika Padukone, Ranveer Singh, Varun Dhawan And More Try The FaceApp Age Filter But Netizens Stand By Anil Kapoor's Age-Defying Features!
After the Jonas Brothers and Nick Bateman attempted this challenge, it's Jeremy Renner's turn to take you ahead in time in reveal if old age mattered to the Avengers. Hawkeye aka Ronin aka Renner took to his Instagram account to share a picture of his fellow superhero buddies with the old age filter. And we must say, they have aged like a fine wine (leaving Mark). And this is definitely the 'End' we were rooting for. Where all superheroes grow old together and pose for a perfect happy picture.  Varun Dhawan Turns Into a Hot 70-Year-Old Hunk, Says He Looks Like Anil Kapoor in Hundred Years! View Pic.
Check out Jeremy Renner's post
'Wow!! When ENDGAME is truly the END of the line... hahaha!' captioned Renner while sharing this new picture and it's pretty amusing. The Old Age filter is making everyone curious to get a glimpse about their future and we bet half of y'all have already attempted it on your cell phones. Rest can go ahead and give it a try. It's fun, trust us.