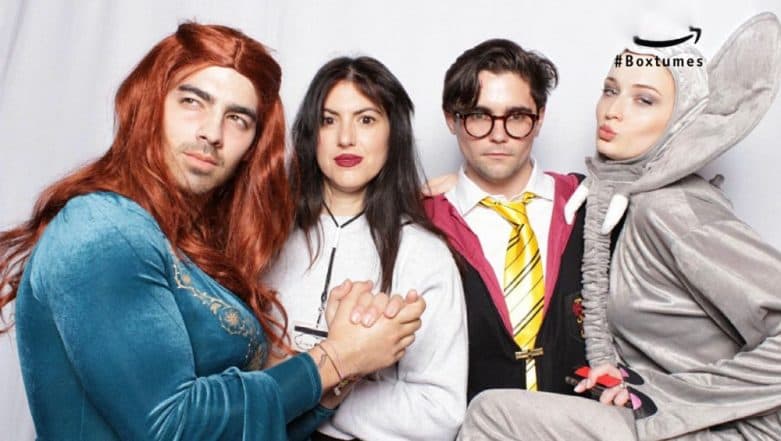 Joe Jonas will truly scare the bejesus out of you in a Sansa Stark costume while his fiancée looks like an adorable female version of Dumbo. Let's start from the top. Well, considering how only a few days are left before the spooky night takes over Hollywood with mad costume parties, some are hosting pre-Halloween costume parties. The betrothed couple were invited for Kate Hudson's Halloween costume party over the weekend.
So while Priyanka Chopra was hosting her bridal shower and Nick Jonas spending quality time with her nephew, Sophie and Joe were playing dress-up. At Hudson's Halloween bash, Sophie and Joe took the costume party rather seriously and chose to wear something close to their heart.
The 29-year-old DNCE vocalist killed it with the romance quotient in his costume as he dressed up as the famous character his fiancee plays in Game of Thrones, Sansa Stark. He donned a velveteen blue gown with a long red wig, much like what Sansa (or Fiona from Shrek series) wore as her statement look. Interestingly, the little details such as the deep neckline, bell sleeves and gold embroidery were all perfectly synced in the gown Joe wore. Someone really did their homework to precision.
Meanwhile, Sophie opted to play a darling looking elephant in a grey velveteen onesie costume that had the long trunk, tuskers and floppy ears. Cute! Check out their looks below.
View this post on Instagram
Other celebrities who attended Kate Hudson's Halloween bash at director Simon Kinberg's house were Jessica Alba, Gwyneth Paltrow and her new husband Brad Falchuk, Olivia Munn, Rachel Zoe, Sara Foster, Sarah Silverman and other stars also attended. Regarding GoT's final season, Jonas told Variety, "I can't wait for it to come back and I don't want to know any spoilers," Jonas added. "Sophie won't tell me and she knows if she told me I would be so heartbroken because I'm such a big fan of the show. I'd be pissed." Well, this surely is the closest he gets to play a pivotal character on Game of Thrones.