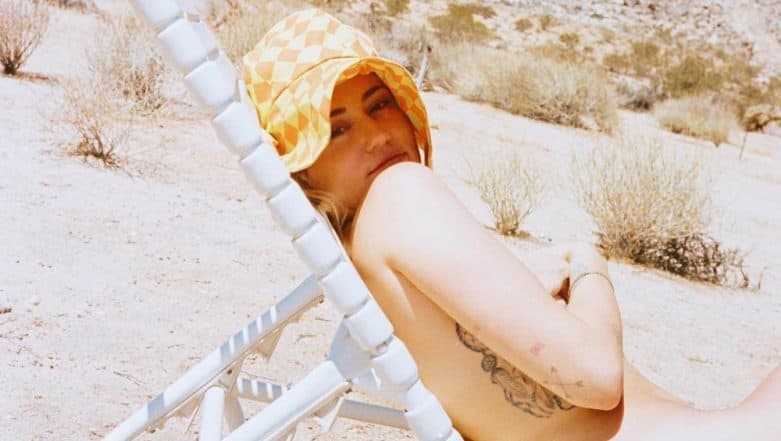 Miley Cyrus has the best way to make an announcement. She will be part of Woodstock 50 and perform alongside several biggies from the music industry. Now it is big news, right? And Miley found a very appealing way to let her fans know about the same.
Taking to Instagram, Miley shared a bold picture of herself. In the picture, she is seen lounging on a lawn chair in the middle of a desert (well, that is the background), wearing nothing but a yellow and orange bucket hat. Cyrus captioned the picture as, "Festival season is here , I'm queer , and ready to party! 🌈🌈🌈 lets go summer 2019!" Needless to say, she looks super hot as she flaunts her bare tattoo. You can check out the post below.
Miley Cyrus' Instagram post
Miley also shared another post regarding Woodstock where she jested about 'riding' a giant 'cock'. She captioned her post, "Woodstock here I come ! When I'm not riding a wrecking ball, you can find me on a giant cock 🐔 🐓🐔🐓🐔🐓🐔🐓🐔🐓" Cyrus will be performing on August 16 this year. The line-up for the same day includes The Killers, Akon, Princess Nokia, The Lumineers, The Raconteurs, Maggie Rogers and more who will perform.
Miley Cyrus' Woodstock announcement 
Woodstock will also have artists such as Chance the Rapper, The Black Keys, Leon Bridges, Gary Clark Jr., Rival Sons, Emily King, Jay-Z, Imagine Dragons, Halsey, Earl Sweatshirt, Janelle Monaé, Victory and more have signed up for the project. "We've line up artists who won't just entertain but will remind the world that music has the power to bring people together, to heal, to move us to action and to tell the stories of a generation," stated Micahel Lang, th3e co-founder and producer of the 1969 and 2019 Woodstock festivals.