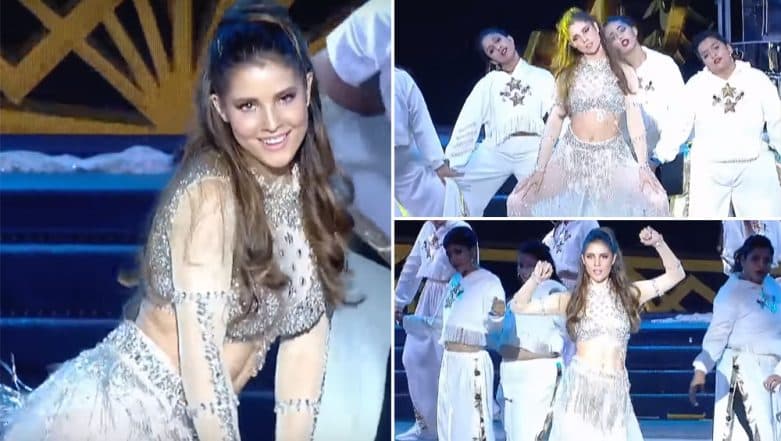 It has been a season of Doppelgangers of sorts with what stars like Anushka Sharma and now actress Jacqueline Fernandez too finding them. We recently found out the amazingly striking similarity between Jacqueline and Germany-based YouTuber Amanda Cerny. Jacqueline had even shared a photo, saying how she'd love to meet Cerny some day in Mumbai and well, her wish did come true as the YouTuber recently arrived in Mumbai for the YouTube Fanfest. The event took place yesterday (March 30) in Mumbai at Jio Gardens and we were thrilled to see Cerny perform.
The German YouTuber set the stage on fire with her performance and what's even more amazing is that she chose to do so on a Bollywood song. Amanda swooned us with her moves as she performed on the current sensation, "Dilbar" song and also LoveYatri's "Akh Lad Jave". The original track features yet another sensational dancer, Nora Fatehi in it. Jacqueline Fernandez Meets Her Doppelganger Amanda Cerny in Mumbai with Salman Khan - See Pic Inside
Take a look at Amanda Cerny's performance at YouTube Fanfest:
With over 24 million followers on Instagram, Amanda Cerny is already a sensation worldwide but with her latest Bollywood connection, we bet she's about to get much more popular. Looking at Amanda's amazing performance, it sure seems like she may soon be approached for a special number in a Bollywood film.
We bet Jacqueline is thrilled to know what a bunch of talent her doppelganger is. Fernandez herself is known for her sizzling moves and we think it would be a good idea for Jaky and Amanda to come together in a dance video. What do you say?