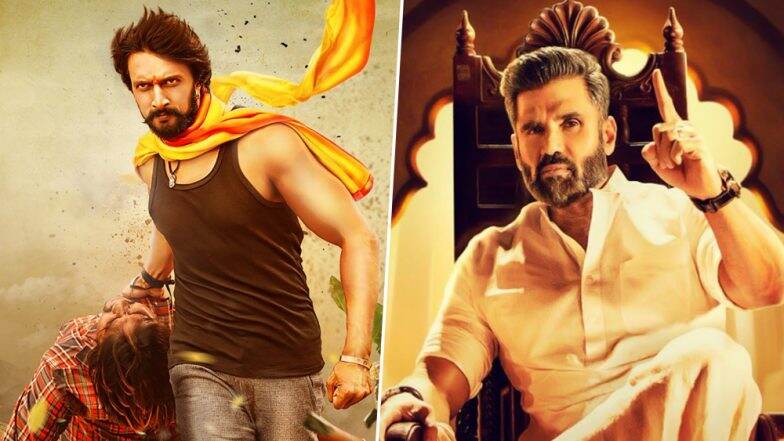 Kannada film's Megastar Kichcha Sudeep has been making quite a lot of noise thanks to his wrestling drama, Pailwaan, with Suniel Shetty. The story of the film is very basic, to be honest. It starts with an orphaned boy, Krishna, who looking for some quick bucks. He's not a brainiac and the only way he can make money is by fighting with all his might. Sarkar (Suniel Shetty) notices how the young lad can pack a punch without fear in his eyes. Since Sarkar himself didn't marry or have kids, he decides to take Krishna home and raise him to be a wrestler. Considering how Krishna doesn't wish to study, he agrees to be Sarkar's student and fight to win the National Championship for him. The bargain takes a 180 degrees shift when a lady enters Krishna's life. The man who has worshipped Hanuman and dedicated his life to be a celibate with eyes on for the national championship trophy, little does Sarkar expect his pupil to change course. Sadly, it happens and he falls in love with Rukmini.
The first half ended on a very Sooryavansham note as Krishna did exactly what his father asked him to avoid doing. Oh and Sarkar did promise Rukmini's father that Krishna would do no such thing that would jeopardise his daughter's marriage. So far, everything is as predictable as metro train's status. Things are happening exactly as one would hope them to happen and there doesn't seem to be any kind of changes. Pailwaan: Suniel Shetty Impresses as the Powerful 'Sarkar' on the First Look Poster of His Kannada Debut - View Pic.
The action is good which shouldn't be surprising because that's pretty much the crux of the story. Kichcha Sudeep and Suniel Shetty's camaraderie is fun to watch as is the comic exchange he has with the supporting lead. While things have not been new or fresh yet, we are hoping that it might change in the second half.