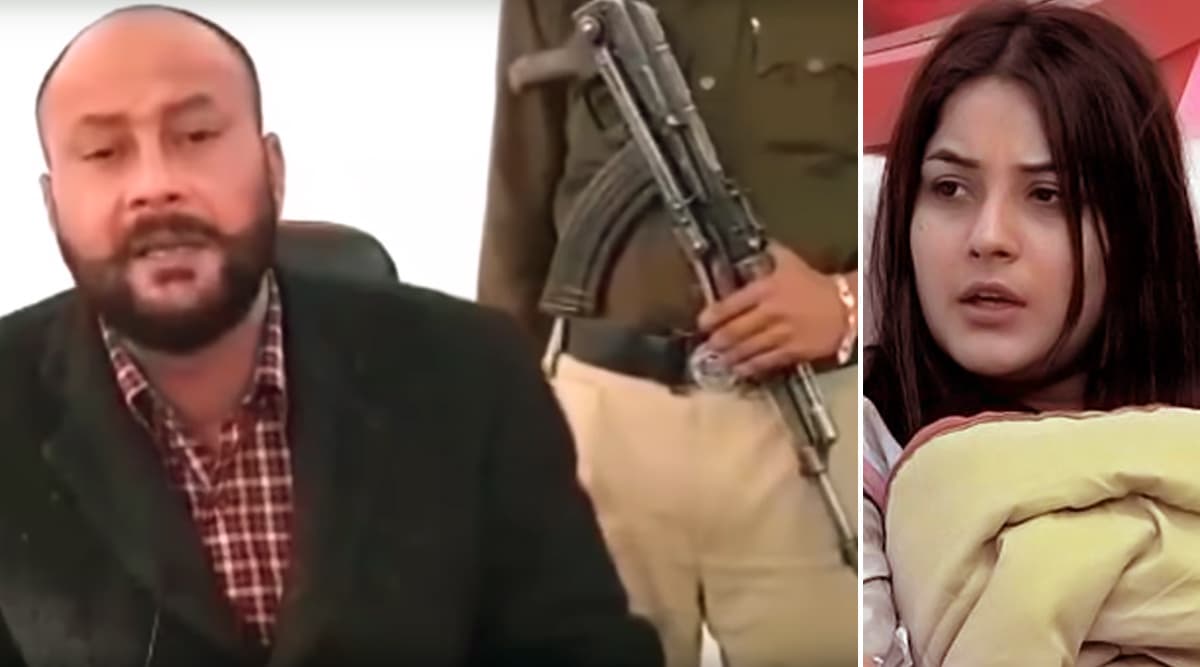 Shehnaaz Gill and Sidharth Shukla are one of the most loved contestants on Bigg Boss 13. Right from their cute banter, on-off love to teasing, fans just go gaga over the duo's chemistry and how. Having said that, there are some section of fans too who think that #SidNaaz (fondly called) should no longer be together, as Shukla does not value Gill. All that being said, in a recent interview, Sana's father (Santok Singh) spoke in length about Sid and her girl's equation on the show and even went on stating that he does not mind if the two get married. But well, let's talk about something which we noticed and none in the showbiz did. Bigg Boss 13: Shehnaaz Gill Kisses Asim Riaz to Make Sidharth Shukla Jealous, and It's the Cutest Thing Ever (Watch Video).
Coming to the point, in the said interview of Shehnaaz's father, the bodyguard in the background has created quite a reaction on Twitter. The guard in the behind can be seen moving in and out of the frame and its really funny. And if you scroll through the comments on The Khabri's account, there are some fun as well as bashful reactions to the same. One of the users pointed out quite a valid thing and said why Sana's father needs a bodyguard with a gun? And well ther are also more. Bigg Boss 13: Wait, What! Is That A Mobile Phone Behind Mahira Sharma In This Photo?
Have A Look At Gill's Father's Interview Below: (Especially The Gunned Bodyguard)
And Here See Some Twitter Reactions On The Clip Above:
Show Off, Uncle! 
Yaar uncle itna show off kyu? Apko hum phone me ghus k maar thodi denge😂😂 gun dikha k dara the ho?? Asim k dad IAs officer hai.. kabhi unka simplicity Dekha hai? #Fakenaz for a reason. No hard feelings for uncle ki.. par gun Ka logic smjh nai aaya Mainz twada😂😂😂

— Deboshree Sarkar (@ideboshree) January 8, 2020
Umm, Okay!
Cheap tack-tic. A person holding gun behind u is not a real pride. If govt have provide u security then respect it don't show off be responsible to society. Tomorrow some other family will make video with Something bigger tha gun man behind u then wht will u bring?

— NICKY (@Supportasim1) January 8, 2020
This One Needs Answers? 
Is ka bap kadta kya hai jo piche police wale hai

— Yashir (@Yashirsheikh007) January 8, 2020
The Gunman Concern!
wats up with that gun backside !?

— zorin sandhu (@ZorinSandhu00) January 8, 2020
OKAY, Then!
Great father. Beti National TV pe rajaai ke andar jyaada dikh rahi hai, fir bhi use support kar raha hai.#SidNaazIsRulingHearts

Ab lag raha hai#chidnaaz

— ANAND (@ANAND19384651) January 9, 2020
Meanwhile, a few Twitter users have also stated that Shehnaaz's father is a politician and that's why he needs such kind of security. So, what's your take on Tweeples reaction on Gill's father. Let us know in the comments section below. Stay tuned to LatestLY for all the deets related to Bigg Boss 13!